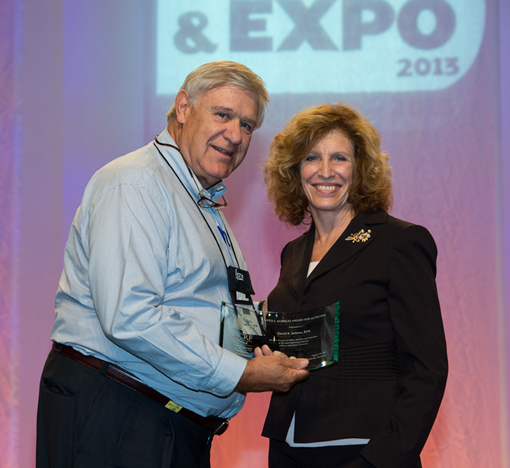 NASHVILLE, Tenn., Aug. 13, 2013— The National Court Reporters Foundation (NCRF), the charitable arm of the National Court Reporters Association (NCRA), the country's leading organization representing stenographic court reporters and captioners, announced today that veteran court reporter David Jackson, RDR, from Dallas, Texas, was named recipient of the 2013 Santo J. Aurelio Award for Altruism, the foundation's highest honor, during NCRA's 2013 Convention & Expo held in Nashville, Tenn., Aug. 8-11.
The award is bestowed each year one individual in recognition of their commitment to the court reporting profession and for their selfless actions to give back to the community. Nominees must be an NCRA Participating, Registered, Retired Participating, or Retired Registered member; must have demonstrated altruistic behavior; and must have been a working reporter for at least 25 years.
Jackson, a court reporter with more than 40 years of experience, is a principal with the United American Reporting Services in Dallas, Texas. He is the 15th recipient of the Aurelio Award.
Jackson, who served six years in the U.S. Naval Reserve, including one active year as a court reporter at the Naval Guided Missile School at Dam Neck, Va., began his court reporting career as a freelancer in Oklahoma City. In 1971, he joined the firm of Federal Court Reporters, and continued service with the company after it merged with United American Court Reporting Services in 1986. He holds the professional designations of Certified Steno Reporter (CSR) from the state of Texas, as well as the NCRA-recognized Registered Diplomate Reporter (RDR), and certificates of Proficiency and Merit.
Active at the local level, Jackson holds membership in the Dallas County Shorthand Reporters Association and served as its president in 1979. At the state level, he is a member of the Texas Court Reporters Association (TCRA) and served as president of the group from 1983 through 1984. He is a past recipient of TCRA's Distinguish Service Award, and is a member of the organization's Hall of Fame.
At the national level, Jackson holds membership in NCRA and served on the organization's board of directors from 1998 through 2001. He is also a member of the Society for the Technological Advancement of Reporting (STAR), and a founding member of Legal Image Network Communications, serving as its vice president and treasurer in 1991.
During his career, Jackson served two terms on the Texas State Bar Association's Unauthorized Practice of Law Committee, and as a member of the Advisory Committee of the Court Reporting Institute of Dallas and Professional College of Court Reporting. He was also appointed by the Texas Supreme Court to the Texas Court Reporters Certification Board, and served seven years as co-chair of the Testing Committee, dictating and administering the Texas CSR test for court reporting. He has served as member of the Texas Supreme Court Advisory Committee since 1992.
Active in his community, Jackson is a member of the Park Cities Baptist Church in Dallas, and was involved with the local Big Brothers program from 1980 through 1987. His articles have appeared in the Texas Trial Lawyers Forum and in TCRA's Texas Record, and he has been a presenter at numerous NCRA and TCRA meetings.
Jackson resides in Dallas, and enjoys coin, stamp, art, and gun collecting, as well as golfing, fishing, hunting, and sailing.
"David is one of my local friendly competitors, and he is a big man with an even bigger heart," said Donna L. Collins, RPR, CRR, CCP, owner of Collins Realtime Reporting, in Dallas, who nominated Jackson for the award.
"He received the Texas Court Reporters Association top honor, the Distinguished Service Award, 18 years ago and now deserves the Auriel award. He continues to serve on the Texas Supreme Court committees, proctoring and grading court reporter exams, as well as testifying before the legislature, speaking at seminars, and mentoring others in and outside of the court reporting profession.
About the Award
Dr. Santo J. Aurelio, a former court reporter for 30 years, earned a bachelor and master degree from Harvard Business School, and a doctorate in education from Boston University. He is a visiting professor at colleges throughout the Boston area, where he teaches a variety of subjects, including English grammar and medical legal terminology. He has written extensively on Black English, Judeo-Christian religion, sexist language, classical art, discrimination, word etymology, adult basic education, Jewish and Italian immigration, legal terms, and mnemonics. Most of his time is spent teaching, engaging in research and writing. He has four sons, and lives with this wife of more than 50 years in Arlington, Mass.