Ask any seasoned official court reporter about their career experience and more than likely they'll share at least one, if not more, stories about high-profile, unusual, intriguing, or captivating trials they've reported. And seasoned official court reporter Anthony "Tony" Rolland, RMR, CRR, from Oviedo, Fla., is no exception.
A court repor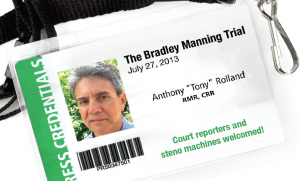 ter since 1982, Rolland al­ready holds a treasure trove of experience rich in notoriety. He reported the federal habeas corpus trial of infamous killer Ted Bundy, who was tried and convicted for the murders of numerous young women and girls during the mid- and late-1970s and then executed by the state of Florida in 1989. He also reported Lou Pearlman, producer of the successful 1990s boy bands the Backstreet Boys and 'N Sync, who plead guilty on charges of money laundering and more after being discov­ered as perpetrator of one of the largest and longest-running Ponzi schemes in American history. Other notable cases in Rolland's trove of experience include the trial of David Siegel, president of West­gate Resorts and other real estate-related entities, who was found liable in 2008 in a sexual-harassment suit brought against him by a former employee, and the sen­tencing hearing of Thomas Drake, the former senior executive at the National Security Agency who was charged and eventually pled to one misdemeanor count for exceeding authorized use of a computer in an investigation of leaks of classified information to a newspaper.
Earlier this year, Rolland added to his trove of treasures when he accepted an assignment from the Freedom of Press Foundation to report on the trial of U.S. Army Pfc. Bradley Manning, an intelligence analyst who was detained in Iraq in 2010 on suspicion of passing classified U.S. government documents to WikiLeaks, an international, online, non-profit group that publishes se­cret information, news links to the media, and classified mate­rials from anonymous sourc­es. Manning, who was con­victed by a military court in August, had committed the largest security breach in U.S. history by disclosing more than 700,000 records to the online organization.
From the very start, the case itself would take on as­pects that ranged from its being a vast history-mak­ing event to the numerous efforts taken that led to Rolland being hired for the assignment. Because of the nature of the case, the military ju­dicial system determined that no record of the trial would be made by a court re­porter stationed within the courtroom, but rather the procedures would be electronically recorded and not released to the public until multiple reviews and redactions were made by the government over a course of several months.
The decision by the court led to the nonprofit Freedom of the Press Founda­tion, an organization that supports free speech and freedom of the press and is supported by mainstream and alterna­tive journalists, as well as activists and celebrities, to launch a public fundraising campaign to fund hiring a stenographic reporter to cover the proceedings and en­sure public access to information about the case. The foundation also requested that the court provide permanent ac­commodations to a live court reporter to cover the trial proceedings.
"Knowing the background of the case, I was very interested in following it, and working on it and preparing a tran­script for it was the best way to follow it. I appreciate challenging work and knew this assignment would fulfill my expecta­tions," Rolland said. "I had never report­ed a court-martial before and was very interested in learning about that judicial process. This was the most challenging assignment I've ever sat through."
HEADED TO COURT
Though Rolland was granted perma­nent accommodations to cover the pro­ceedings, the military had not provided him with any written documentation regarding accommodation. On the first day of the trial, Rolland attended the proceedings on a borrowed press pass. That same day, the foundation sent a let­ter to the Military District of Washington media desk that was signed by an array of media outlets. The letter successfully argued that barring a live stenographic reporter from covering the proceedings stymied Manning's Sixth Amendment right to a public trail and the public's First Amendment right to a public trial, and that two press credentials should be issued to Rol­land.
According to the military media desk, it received more than 350 requests for press credentials but only issued 80. Rolland was given two.
"The first day of the trial was a bit iffy because I didn't have anything in writing saying I could be there. Each morning and afternoon a military attorney would come into the media center and brief us about what was going to occur that day at trial. The first day, I showed the attor­ney my machine just to make sure that the verbal permission I had to be there was valid until I received written permis­sion," Rolland said. "I explained that the machine was just like having a pen and paper only I could write faster."
Landing the assignment to cover the Manning trial also gave Rolland the op­portunity to team up with Gore Broth­ers Reporting & Video, a court reporting firm in the Baltimore/Washington, D.C. area, to help ensure transcripts were de­livered in a timely manner to the founda­tion. Owned and operated by Rolland's long-time friend, mentor, and colleague Joe Grabowski, RMR, the firm provided him with the necessary support staff to work on producing the transcripts and uploading them by 7 p.m. each evening and 9 a.m. each morning. Grabowski's firm also provided the support of four court reporters who rotated with Rol­land throughout each court session and the entire month of July.
"Teaming up with Joe's firm was very assuring to me. I knew I would need as­sistance to meet the delivery request time, and that various hiccups would oc­cur along the way, and I knew that Joe's long-time experience in this profession and his vast knowledge, supportive staff, and the infrastructure his company had in place would make handling a job of this magnitude possible," Rolland said.
According to Grabowski, a court re­porter since 1976 and owner of the Gore Brothers firm since 1996, signing on with Rolland to support coverage of the case was not that easy of a task to make happen, especially in light of the many nontradition­al rules and procedures followed by the military's judicial sys­tem. In addition, there was the matter of ensuring enough protection for not only Rolland, but for his own staff as well, given the international newsworthiness of the case.
"We were negotiating through an unfamiliar process with taking on this case. Everyone had heard about this trial. I would go online and read articles that said there were going to be protests outside of the base. I was nervous about having my company and its reporters identified on the foundation's website in the event that some radical individual or group tried to make a statement," said Grabowski, who has worked in the dis­covery and arbitration arenas, as well as abroad in Spain, Greece, and Poland.
"This was a great opportunity, though, to be a part of history in the making. The case was so vast that we might not even find out the full impact of Manning's actions for another 10 to 20 years. It was all very interesting," Grabowski said.
INSIDE THE PRESS GALLERY
"Each morning we would arrive in the parking lot and have our vehicles inspected by the military K-9s before we could even enter the base," said Rolland. "Then there would be a procession of vehicles to the media operations center where we would trade our identification for a media credential."
Inside the small, cinema-type view­ing room, members of the press and the stenogra­phers were able to watch video of the proceedings that was often poor and accompanied by sometimes less than acceptable audio. Additionally, the fact that members of the press were not permitted to bring in recording devices or cell phones to aid in capturing what the courtroom's voice-activated cameras and microphones were sending back to the screen only added to some of the frustration of covering the proceedings. According to Rolland, some of the mem­bers of the media complained that the quickness of the audio, for example, was almost comical and often made it impos­sible to catch the stipulations made be­tween the defense and prosecution.
"We were all doing the best we could and some of us were able to get enough of the content that it could be edited down to be readable," Rolland said.
"But there were also various con­nection problems that would often oc­cur, with the most frequent being what I called hiccups in the streaming — with no time lag in the audio, a piece of the proceeding would just disappear, typi­cally about half a sentence," he said.
"No audio assistance was allowed and once we were on base, we weren't allowed to leave until lunchtime or the end of the day, so if there were problems with my system, I had no way to access any additional equipment I might have had in my car."
Although not a member of the news media, Rolland said that he and his ma­chine were warmly welcomed by the journalists he worked side by side with during the trial, and that it wasn't un­common for one of them to turn to him if they had missed something that was said during the proceedings.
"Many of the reporters with me would ask for quotes especially if they wanted to get an article out to their out­lets right away. Many of them also said they wished they had the skills to use a steno machine because it would make their lives much easier. I would show them my machine and their typical re­action would be one of amazement that I could capture the spoken word that fast."