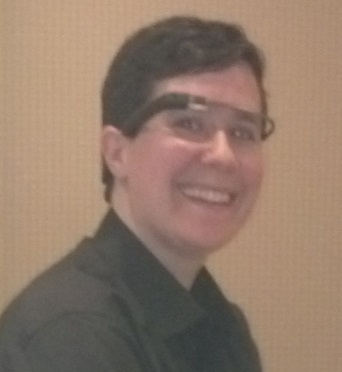 Attendees at a "wearable realtime" session held during NCRA's 2014 TechCon in April were given a glimpse and a try-on of the latest in high-tech fashion, Google Glass, by presenter Mirabai Knight, RDR, CRR, CBC, CCP, owner of StenoKnight CART Services in New York City.
Knight, who provides on-site and remote CART services to deaf and hard-of-hearing medical students and professionals locally, as well as nationally through White Coat Captioning, is recognized as one of the profession's experts on leading-edge technology. In her presentation, she shared with the audience the reasons why she spent $1,500 to purchase her Google Glass and serve as one of the company's first 1,000 beta testers, as well as how she uses it in her professional work, the pros and cons of the product, and where she sees the technology going in the future.
"I've always wanted a computer display on my face. I'm a gadget hound," Knight told the audience. "I've always dreamed of writing prose in steno while walking through the park."
According to Knight, the Google Glass basically functions as a mini projector that beams into the wearer's eyeball and has been crucial to assisting the majority of her clients who are deaf or hard of hearing and working in various medical fields.
"The Glass has proven to be a great tool for people who need to work with their hands, work with people, and are not able to hear. The ability to have a discrete source of captioning is really crucial. It provides them full immediate access to the spoken word, and I don't have to be on site. I can be removed and just get the remote audio remotely, and the conversation feels like it is directly between the doctor and the patient," Knight explained.
Knight offered attendees at the session an opportunity to try on her Google Glass to experience how it works. She then captioned herself as she spoke to the audience and answered questions, streaming what she said across the upper corner of the right lens. She noted that some of White Coat Captioning's clients require discretion and have used the Google Glass in situations where interpreters were not available, for example during artwork critiques, at networking mixers, and orientation events.
Knight also shared some of the limitations she found with Google Glass including eye strain, difficulty in reading text that is overlaid on busy backgrounds, sanitization especially when working in a medical situation, and a limit of four hours of battery time. In addition, people who wear regular glasses need to wear contact lenses to be able to use the product.
While Google Glass is still in its prototype stage, Knight believes that the price will drop once it becomes available to the public. However, she noted, just like the introduction of the Segway as an alternate mode of transportation, the success of Google Glass is going to be determined in large part by who uses it and how often. Still, she believes there are venues such as courtrooms and deposition rooms where the product could prove invaluable in helping people who are deaf or hard of hearing.
The e-seminar is now available here.