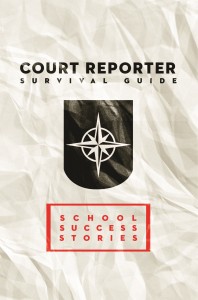 NCRA has released Court Reporter Survival Guide: School Success Stories, a collection of essays and tips about making it through court reporting school written by freelancers, officials, CART captioners, and current students.
"This collection is a true Chicken Soup for the Soul-type book that offers advice and insight from the only people who really understand the ins and outs of court reporting: other court reporters and captioners," said Jim Cudahy, executive director and CEO of NCRA.
"While the stories are written from the point of view of students, the book is designed for all reporters, no matter where they are in their careers. This collection serves as a good reminder to working reporters that despite the sometimes difficult road to earning their place in this unique profession, the ultimate achievement of becoming a 'keeper of the record' was worth it," Cudahy adds.