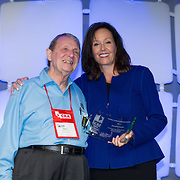 Long-time NCRA member Dom Tursi, CM, was named recipient of the Santo J. Aurelio Award for Altruism during a special awards luncheon held at the Association's 2015 Convention & Expo held July 30-Aug. 1 in New York City. Members of the 2015 class of the Academy of Professional Reporters, NCRF intern scholarship winners, and Bonni R. Shuttleworth, CRI, CPE, recipient of the 2015 CASE Award of Excellence, were also honored at the luncheon, along with Josephine Nosker, Tracey Tracy, Angeli English as the winners of the CASE essay scholarship.
The award is presented by the NCRF and is given to a working court reporter with more than five decades of experience who has given back to the profession and to the court reporting community with no expectation of any reward.
Tursi, an official court reporter from Central Islip, N.Y., has worked as a freelance reporter, an official court reporter, and a videographer. He has also been a partner in a firm, opened his own firm, founded a court reporting school, taught court reporting, provided closed captioning for clients, and reported proceedings in at least a half-dozen countries. Tursi is also the author of a number monographs and has served in many capacities at the local, state, and national levels, logging thousands of volunteer hours on behalf of court reporting.
A long-time supporter of the profession and students, he has shared his expertise as a seminar presenter for his state association and law firms, and as a lecturer and mentor to countless students. He is also a national and multi-state winner of numerous speed contests in Literary, Legal Opinion, and Q&A, and has also provided live dictation numerous times for NCRA for the RPR and other tests.
As part of NCRA's People to People program, he served as an ambassador to China in 2007 and is credited with creating a true respect between the American and the Chinese court reporting communities.
In September 2010, he opened the Gallery of Shorthand in his own courthouse, a museum-like venue that showcases the history of the court reporting profession. The museum and its collection of artifacts are considered to be that of Smithsonian quality.