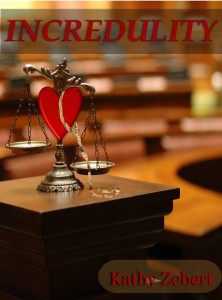 NCRA member Kathy Zebert, RPR, CCR, has a debut romance/murder mystery novel entitled Incredulity. The book is currently available for preorder on Amazon.com in both paperback and Kindle. Hard copies of the book will hit shelves on Oct. 8.
The story follows the budding romance between Callie, an official court reporter in Austin, Texas, and Dominic Jaxson, a local rancher she meets at a nearby restaurant. After several months of dating, Callie finds herself as happy and content as she was before she lost her husband to cancer several years prior, until one morning when reporting the day's court proceedings, Jaxson is suddenly brought before the judge on murder charges.
While Incredulity is her first published novel, Zebert says she has been writing for many years, including as a contributor to the JCR and various other publications.
"My desire to give the reporting profession a voice in the mainstream media in part motivated me to write this book," says Zebert, who adds that she plans to continue to write about the characters she has developed in a follow-up that will open with the next chapter of the characters' relationship. She also notes in the book that she was inspired by her love of many things, including her faith, family, friends, profession, and cowboys.
Zebert, who has been a freelancer and an official court reporter since 1994, notes that she has reported in Mississippi, Tennessee, South Carolina, and Georgia. A past president of the Tennessee Court Reporters Association, Zebert has also presented seminars to both professional court reporters and students and has served as a guest speaker at numerous state court reporter associations, including at the NCRA Convention & Expo, the National Verbatim Reporters Association, and the Mississippi Judicial College Fall Conference.
Zebert is currently a freelance court reporter in Chattanooga, Tenn., and is the owner of Stenedge, a continuing educational resource for legal professionals. She can be contacted at wordsincolorpublishing@gmail.com or at kathyzebert.com.