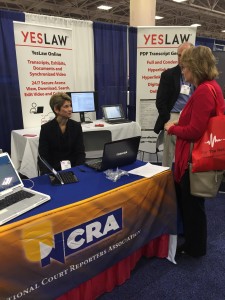 NCRA partnered with YesLaw to showcase the latest in court reporter technology with demonstrations of realtime at the recent National Center for State Courts' Court Technology Conference, held Sept. 22-24 in Minneapolis, Minn.
CTC 2015 is the most relevant and comprehensive court technology conference in the world. Its education program and exhibit hall attracts more than 1,500 judges, court administrators, court technologists, court managers, and other justice-system professionals from across the country and the world. CTC participants learn how to use the latest advances in technology in ways to help them improve court operations and better serve the public.
NCRA has participated in all 14 of the Center's conferences, which provide court and legal experts the opportunity to see and hear about the latest technology. NCRA and YesLaw exhibited in a booth to explain to administrators, judges, and law experts the benefits of a court reporter providing a realtime record in court proceedings. In addition, Stenograph donated a Disco Diamante stenography machine for the occasion, which volunteer court reporters used for demonstrations for booth attendees.
NCRA's exhibit at CTC, as well as a number of other venues throughout the year, is part of the efforts by its National Outreach Committee to increase the visibility of the court reporting profession and the high-quality services that NCRA members offer.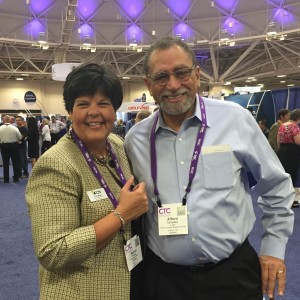 "NCRA's presence at CTC is an opportunity to showcase realtime and the technological advances stenographic reporters bring to courtrooms every day. We were able to demonstrate how realtime, wireless technology, and litigation support tools benefit the court system and the public, and how court reporting excellence and high-tech innovations can merge to provide a low-cost, highly productive courtroom that benefits the judge, attorneys, court administrators, and other judicial participants," said NCRA President-elect Tiva Wood, RDR, CMRS, a court reporter from Mechanicsburg, Pa.
"Attending CTC was a fantastic opportunity to show off realtime to court administrators and judges and let them see the best option for keeping the record in courtrooms across the country, mostly at a time when many state court administrators are looking for alternative methods," said Sharon Steinbrecher, RPR, an official court reporter from Anoka, Minn. "The more exposure we can provide to the people who are making these decisions that affect so many reporters' livelihoods, the better off we are," she noted.
Jean M. Whalen, RDR, CRR, CCP, an official court reporter from St. Paul, Minn., who also volunteered at the NCRA booth doing realtime demonstrations, said she enjoyed showing the court administrators and especially the IT professionals in attendance that digital stenography is more relevant than ever.
"I enjoyed seeing the looks of wonderment on the faces of those new to realtime when they noticed that what they were saying was coming up on a screen in front of them. There were a lot of exhibitors at the event, and I think it was of utmost importance that NCRA was there to represent us," she said.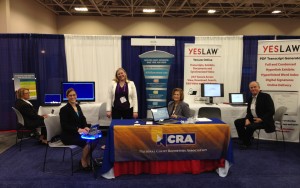 Other NCRA members and volunteers who attended the event and assisted with realtime demonstrations and answering questions by visitors at the booth included: Jan Ballman, RPR, CMRS, Chair of the National Court Reporters Foundation, Minneapolis, Minn.; Adrienne Conzemius, RPR, Blaine, Minn.; Rachel Erickson, Bloomington, Minn.; Jill Garrison, RPR, St. Paul, Minn.; Janell Gruber, RMR, CRR, CBC, CCP, St. Cloud, Minn.; Mary Johnson, RPR, CRR, Shakopee, Minn.; Merilee Johnson, RMR, CRR, CBC, CCP, Eden Prairie, Minn.; Mary Krawiecki, RPR, CRR, CBC, CRI, Alexandria, Minn.; Lori Morrow, RMR, CRR, CCP, Eden Prairie, Minn.; Mike Nelson, CAE, NCRA CEO and Executive Director, Reston, Va.; Pat Nelson, Minnesota; Debbie Peterson, RPR, Prior Lake, Minn.; Jennifer Sati, RMR, CRR, CBC, CCP, CRI, Dayton, Minn.; Sharon Steinbrecher, RPR, Anoka, Minn.; Jean M. Whalen, RDR, CRR, CCP, St. Paul, Minn.; Sara Wood, CAE, NCRA Director of Membership, Reston, Va.; and NCRA President-elect Tiva Wood, RDR, CMRS, Mechanicsburg, Pa.