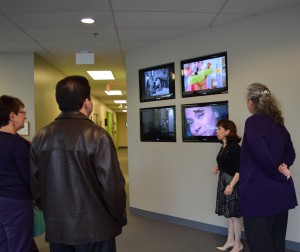 On Oct. 27, Darlene Parker, RPR, the director of steno captioning and realtime relations at the National Captioning Institute, guided a few NCRA staff members on a tour of NCI's headquarters in Chantilly, Va., located 25 miles outside of Washington, D.C. In addition, a few members of the NCRA Board of Directors visited on Nov. 13. NCI also has offices in Santa Clarita, Calif., and in Dallas, Texas, which houses NCI's technical operations center. During the tour, Parker provided a bit of background about captioning and NCI, and she organized demonstrations of both live and offline captioning.
The first captions debuted in 1972. The program was The French Chef with Julia Child. The captions were opened, meaning that they could not be turned off. Then in 1973, ABC World News Tonight became the first somewhat timely captioned newscast. Timely in this sense meant that the 6:30 p.m. feed was recorded, and a caption file was created that could be punched back line by line when the news aired again at 11 p.m. WGBH, The Caption Center, in Boston produced both of these programs. While this was a welcome innovation for the deaf and hard-of-hearing audience, some of the hearing audience complained that the opened captions were distracting. This resulted in the establishment of NCI in 1979 in cooperation with ABC, NBC, PBS, and the federal government as a 501(c)(3) nonprofit corporation. Its mission: to promote and provide access to television programs for the deaf and hard-of-hearing community through the technology of closed captioning.
The first closed captioned prerecorded programs aired in 1980, ABC's Wonderful World of Disney and PBS's Masterpiece Theater. Only 16 hours of prerecorded programming was captioned per week that year. From there, the technology began to grow by leaps and bounds, recalled Parker, who joined NCI in 1984 and was the sixth person in the country to provide realtime broadcast captioning.
Realtime was introduced in 1982, and after some dress rehearsals with space shuttle launches and landings, the first television program promoted as providing realtime captions was the 54th Annual Academy Awards. NCI obtained a script in advance. Realtime was only used for announcing the winners, the acceptance speeches, and any deviation from the script. Soon after, the launch of the Space Shuttle Columbia was the first live-news event captioned in its entirety. In October of that same year, ABC World News Tonight was the first regularly scheduled program to be realtime captioned. NCI then began captioning Good Morning America and Monday Night Football. Both of these programs aired on ABC.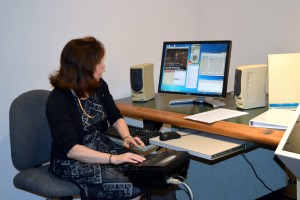 Besides Parker, some of the captioning pioneers at NCI were Tammie Shedd, RPR, CMRS, who has retired and currently resides in Aiken, S.C., and Marty Block, RPR (Ret.), Punta Gorda, Fla. (Block is also a Past President of NCRA.) Block was the first person to provide realtime captions for broadcast television. Other captioning pioneers who began to work for NCI in the 1980s included Katie-Jane Teel, Alexandria, Va.; Karen Ruud, CRI, Madison, Wis.; Janet Burr, RDR, CRR, CBC, CCP, CPE, Milford, Mich.; Debbie Rose Keenan, Manheim, Pa.; and Ann Blazejewski, RMR, CRR, Waldorf, Md. Parker recalled how exciting it was to be involved with the technology so early on: "I loved the job so much, I would not have quit if I won the lottery."
1993 was a big year for captioning. Prior to that, viewers who wanted to view captions needed a telecaption decoder connected to their television set. In order to make captioning accessible to everyone, NCI in conjunction with ITT Corporation, an engineering manufacturing company in Arlington, Texas, developed a decoder chip that could be built right into television sets. The Decoder Chip Circuitry Act of 1993 required all televisions manufactured for sale in the United States 13" and larger to have a decoder chip built into the set, allowing anyone in the United States with a new television the ability to receive captions and turn them on and off. That same year NCI began captioning local news stations and also began remote captioning, allowing a few of their employees to set up systems at home while still working their regular shifts for the office.
Now, NCI captions hundreds of hours of content per day via a pool of employees and independent contractors. Having a flexible workforce allows NCI to manage a challenging schedule of programming that ebbs and flows. Captioners are covering everything from televised Congressional Floor proceedings, to major sports networks, to local news stations all over the country. In addition, the institute has provided Spanish captioning since the early 2000s with captioners who are native speakers.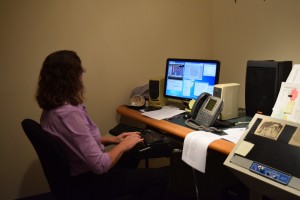 "The captioner now has to act as the pilot and the air traffic controller," Parker said, as she showed NCRA staff a typical NCI captioner's setup (which is basically the same whether the captioner is working in the office or remotely). The captioner is now not only responsible for producing high-quality captions but must simultaneously monitor their technical connections and be adept and remain calm while troubleshooting technical issues. On the computer screen, the captioner has a video feed, an audio feed through a VoIP soft phone, an instant message window to keep in touch with other staff, including technical support, and, of course, their captioning software. In addition, the captioners will have a second computer as a backup, which also enables them to conduct research on-the-fly, for example, to confirm the name of a newly elected official. Connie Templin, an NCI captioner for 25 years, provided a quick demonstration as she captioned a major sports network live on the air.
Parker explained that, besides technical programming, sports are the hardest to caption. Captioning for a major sports network that covers all sports takes a lot of background knowledge, including a thorough understanding of the game as well as familiarity with the rules and jargon for every sport, including baseball, football, hockey, tennis, soccer, golf, lacrosse, boxing, wrestling, and even cricket. Parker declared hockey to be the most challenging sport to caption "because of the names and the speed."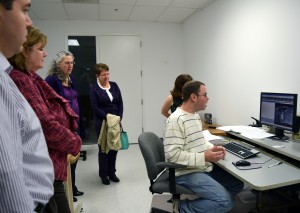 In addition, NCI does offline captioning for prerecorded programs. Rick Brooks, NCI's supervisor of offline production, provided a demonstration, showing the difference between timed roll-up style and pop-on style captioning and the techniques he would use to distinguish between speakers.
Parker also took the time to explain a few ways to identify transmission errors, which are errors that cannot be caused by the captioner. Transmission errors can appear as white boxes, garbled captions, captions that move around the screen, captions that change colors, or two letters or a letter and a space dropping out. These types of errors are caused by a disruption in the phone line carrying caption data. The frustrating thing about these errors, Parker explained, is that "there are so many parties in the chain to get captions from the captioner to the viewer, but these errors are often blamed on the captioner," either due to convenience or a lack of knowledge.
The newest change in captioning is definitely the recent Federal Communications Commission ruling, especially the best practices – which Parker had a hand in developing, along with Carol Studenmund, RDR, CRR, CBC, CCP, a captioner and president of LNS Captioning from Portland, Ore., and Adam Finkel, NCRA Director of Government Relations. The best practices have helped captioners with accuracy by requiring content providers to supply prep information in advance.
With the recent anniversary of the Americans with Disabilities Act, campaigns to increase captioning, not just on traditional television, but online, and the growth of CART, who knows what exciting changes are in store for such an important technology?