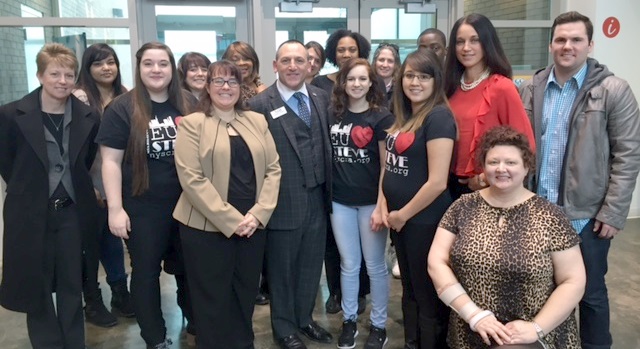 For a group of students from the court reporting program at Cuyahoga Community College (Tri-C), in Cleveland, Ohio, what started as an effort to individually raise money to help them get to the 2015 NCRA Convention & Expo in New York City led to the launch of a formal Court Reporting and Captioning Club. The club now includes 50 members and growing, according to Kristina Carmody, one of the club's founders.
"Fundraising can only be done on the campus if you are a part of an officially recognized club for organizational purposes. Now we have the ability to hold more fundraisers to accomplish our goals and share the proceeds with more of the students in the program," said Carmody, who helped establish the club along with fellow students Blanca Flores Robinson, Karen Herr, Suzy Rafferty, and Amy Williams.
And share the proceeds they have. In celebration of NCRA's 2016 Court Reporting & Captioning Week held Feb. 14-20, the club was able to host a meet-and-greet event that featured NCRA President Steve Zinone as keynote speaker. Zinone, RPR, an official court reporter from Pittsfield, N.Y., spent most of the day with the Tri-C students before formally presenting a keynote address. He spoke of his own professional career background, encouraged students to keep striving to succeed in their program, and gave them tips to help reach their goal of a golden ring of opportunities.
"It is always an honor and a privilege to speak to students and encourage them and explain to them the many opportunities there are in our industry for professional court reporters, stressing to reach for that golden ring because it does exist," said Zinone. "It is imperative to connect with our students and impress upon them that all of us at one time or another experienced bumps in the road as we progressed through school and that through hard work, determination, proper mentorship, and instruction, they too will matriculate and become successful court reporters."
According to Carmody, the main purpose of the club now is to rally students who want to learn more about the field and have a passion for court reporting. The club allows members to participate in activities that foster student success, provide a sense of support and community, aid with fundraising efforts, and offer networking opportunities.
Club members also work to promote interest in the court reporting and captioning fields as well as engage in activities that build their skills and knowledge before entering the field, Carmody said.
"The camaraderie among members of the club is inspiring and motivational, keeping us all focused on our ultimate success and goal of becoming captioners and court reporters," said Carmody. "Planning events to connect the club members with working professionals has been exciting. Those are the biggest benefits."
"Tri-C is an exceptional program, with exceptional instructors and dedicated students," said Zinone. "Visiting Tri-C was very special to me because having met some of the students at last year's Ohio Court Reporters Association's convention in Columbus, and then again at NCRA's annual convention in New York in August, I have been very fortunate to spend quality time with them during their matriculation through school. It was a great opportunity to spend time with them during Court Reporting and Captioning Week. They really are a special group and have helped me enjoy my year as NCRA President because our visits are really priceless," he added.
In addition to his visit to Tri-C, Zinone also participated in a presidents' roundtable in celebration of 2016 Court Reporting & Captioning Week. The roundtable, hosted by the College of Court Reporting in Hobart, Ind., was moderated by the school's president Jeff Moody and was made available to court reporting students from all schools via the college's Blackboard Collaborate system.
Joining Zinone on the panel were Tonya Kaiser, RPR, CMRS, a freelance reporter from Fort Wayne and president of the Indiana Court Reporters Association; Susan Gee, RMR, CRR, a freelance reporter from Cincinnati and president-elect of the Ohio Court Reporters Association; and Kathy McHugh, RPR, CRR, a freelance reporter from Philadelphia and president of the Pennsylvania Court Reporters Association.
More than 30 participants joined the discussion to hear what the panelists had to say about the greatest challenges they faced in court reporting school and how they overcame them. They also discussed how they were motivated to become leaders within their associations, the benefits of membership at the state and local levels, and the importance of certification.
"We are all former students, and I'm sure we all remember a working reporter speaking to us as students and making a positive impression, which created optimism and motivation for us as we progressed through our studies as court reporters in training," Zinone said.
What Tri-C students had to say about Zinone's visit and keynote address:
"I've never been so motivated to practice after hearing someone's life experiences."
"Thank you for asking Steve Zinone to come speak with us. He was very informative and interesting!"
"I really enjoyed Stephen Zinone's talk today! Thanks to all who made it possible and for including distance learners who couldn't be there in person. I took so many great things away from it!"
"We greatly appreciated Mr. Zinone taking his time to come and share his experiences and tips for success in school and in the field. I look forward to seeing him in Chicago at the NCRA Conference!"
"Steve is really very inspiring and down to earth! I'm so glad I could be there."