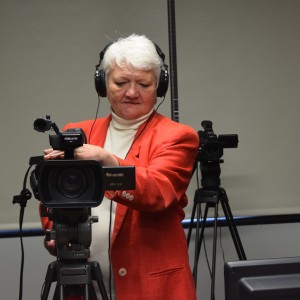 The NCRA CLVS Spring Event held March 11-13 at the Association's headquarters in Reston, Va., drew 36 participants for the three-day seminar and 22 candidates for the required test. The seminar, which is held twice a year, is led by some of the best and brightest in the legal video profession. The program provides CLVS certification candidates with skills in video-recording depositions and courtroom proceedings that follow accepted Rules of Civil Procedure.
"The CLVS conference was awesome. It was well worth the time and money spent to learn from the experts in the field. From guidance in assembling your first video kit to how to properly end a deposition, they covered everything from A to Z," said Andrea Kreutz, a videographer for Huney-Vaughn Court Reporters in Des Moines, Iowa.
"The networking session allowed us to meet other videographers from around the country," Kreutz added.
Candidates for NCRA's CLVS certification must complete a three-step process: attend the CLVS Seminar, pass the Written Knowledge Test, and pass the hands-on Production Exam. Steps two and three can be taken in any order once step one is completed.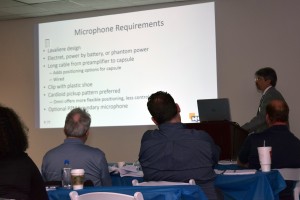 NCRA's CLVS Spring Event also offered an Experienced Track, which allowed qualified experienced legal videographers the opportunity to attend only the mandatory Saturday session of the Seminar followed by the CLVS Production Exam on Sunday.
"I had the pleasure of being one of the instructors in the hands-on section on Sunday. For most of the participants, this was their first time setting up the equipment and actually operating the camera in a mock deposition," said Jason Levin, CLVS, with the Virginia Media Group in Washington, D.C.
"The feedback I got was extremely positive. In fact, one woman pulled me aside to tell me she felt a bit overwhelmed Friday and Saturday, but by the end of the hands-on training on Sunday, her confidence was at an all-time high and her spirit was greatly lifted. So as far as I'm concerned, mission accomplished!" Levin added.
In addition to the seminar's attendees, eight members of NCRA's CLVS Council were also on hand. The CLVS Council is made up of a group of experienced legal videographers who volunteer their time and share their real-world expertise when leading the CLVS Seminar, which provides a huge benefit to the candidates who attend. Participants in the CLVS Seminar also experience valuable networking opportunities that can lead to future job assignments.
For more information about NCRA's CLVS certification or to register for next the seminar, visit NCRA.org/CLVS or contact Angie Ritterpusch, Assistant Director of Professional Development, at aritterpusch@ncra.org.