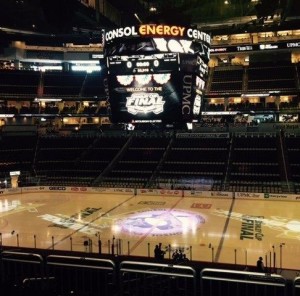 By Connie Lee
I love hockey. I especially love the Pittsburgh Penguins. They are my team. I have been providing in-stadium captioning for the Pittsburgh Penguins for five seasons now. Lucky me!
I had the distinct pleasure of writing game five of the 2016 Stanley Cup final. The Penguins were winning the series 3-1, and game five was going to be the night that Pittsburgh won a championship at home for the first time in 60 years. I was completely giddy to get to the arena from the time game four was in the books. I woke and dressed in my most professional version of black and gold that day. I had a short deposition in the morning before heading to the Consol Energy Center arena, strategically parking near the exit that would lead to the quickest way home. After all, 60,000 people, both inside and outside, were expected that night.
As I passed through the security gate and waved hello to my colleagues, just as I have done for the last five seasons, it dawned on me how very ordinary it was that day. The same aroma of pizza and hot sausage filled the air. A billion more TV people and trucks blocked my path, but everyone was calm.
When I arrived at media level, I expected pandemonium, people running from emergency to emergency. I expected high levels of anxiety. I got none of it. Until, that is, it was time for rehearsal. Routinely, everyone involved in game-night production meets in the director's room, which is the size of about three large conference rooms. It's about 30 people. When the game director, Billy Wareham, started to speak, I knew it was time to get serious. Billy is pretty jovial and cracks a lot of jokes. But when he started the meeting with, "I need to give you all some instructions," I gulped.
What was so amazing to me was that Billy started his instructions by saying, "The people that are here in this room are here because I trust you. You are the best of the best." That's what made me realize, I write the Stanley Cup every day. Like the hockey players, I practice and hone my craft. I invest a minimum of 40 hours a week to my career. I don't waste my time doing it half-way. Everything counts: every stroke, every interaction with my clients, every conversation with my support staff, every time I speak with the subcontractors – everything counts every day.
I get tired, sure, and sometimes I think of walking away, but what I do is important to more than just me. My team is counting on me: my family, my office manager, my scopists, my proofreader. More than anyone, the people who hire me and trust me with their work are counting on me.
When I write for the lawyers, I may not be the superstar on the ice, but I most equate myself with the equipment manager, making sure their skates are sharp, so that the litigators can go out and win. When I write for the Penguins, an entire fan base of people is counting on me to be their ears and to give them the full game-night experience. I pride myself on being the one both groups can rely on to do my absolute best every day.
My sweet Penguins did not win game five. It broke all of our hearts. The responses to the interviews after the game were not of the team giving up. They were of each player filled with resolve to get the job done, to come back next game and win the Stanley Cup in game 6. I'll be there with them. Let's go, Pens!
Connie Lee, RPR, is a freelance reporter in Baden, Pa.