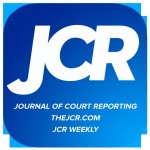 The second in a series of webinars being hosted by NCRA addressed the topics of association governance and what is required in terms of service by volunteer board members. The webinar, held Oct. 26, is part of a continuing series of sessions developed by NCRA to help improve and expand the skills and abilities of state leaders.
Issues discussed in the webinar included the importance of transparency in governing, effective organizational structure, the legal and fiduciary responsibilities of board members, and best practices for volunteer leaders. In addition, the webinar also provided tips on avoiding conflicts of interest and provided an overview of members' responsibilities to the association.
"As a younger leader, I don't have as much experience in the industry as most of my colleagues, so it's nice to soak up as much knowledge as I can to be an effective leader for my state," said Danielle Murray, RPR, an official court reporter from Olathe, Kan., who attended the recent webinar.
"We're all experiencing similar problems, and it's so helpful to be able to come together as a profession and bounce ideas and solutions off one another," added Murray, who serves as secretary of the Kansas Court Reporters Association.
The first webinar, held in September, focused on leadership and provided a general overview of the traits of a good leader, tips to be successful in a leadership role, and more.