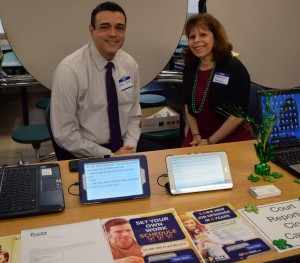 The National Committee of State Associations (NCSA) has compiled a list of tips for NCRA members, students, and court reporting schools who are looking to showcase the profession at career days in honor of the 2017 Court Reporting & Captioning Week, Feb. 11-18.
The comprehensive list of tips includes guidance on who to contact at local schools to set up a demonstration or participate in an upcoming career day or college fair. There is also information about other groups to approach, such as the Boy Scouts, Girl Scouts, or other youth organizations in the community.
Other good sources to tap into for opportunities to showcase the court reporting and captioning professions include the American School Counselors Association (ASCA) and the National Association of College Admissions Counseling (NACAC), which holds college fairs on national, state, and region levels.
"I am always amazed by the reactions I see when sharing with potential students the places a career in court reporting and captioning can take them. Between seeing firsthand how the steno machine works and hearing about the unique venues we work in, the type of services we provide, and the many benefits this profession offers, it is not uncommon to find them a bit mesmerized but also intrigued by a career path many never even knew existed," said NCRA President Tiva Wood, RDR, CMRS, a freelance reporter from Mechanicsburg, Pa.
"Court Reporting & Captioning Week is the perfect opportunity for our members to make a commitment to get involved in career fairs and showcase what we do. You never know if one of the students you meet will be influenced enough to join the ranks of this wonderful and unique profession," Wood said.
The list of NCSA tips also includes information about resources that can be used when presenting at career events, such as those found at crTakeNote.com, what to do to ensure you are prepared for the demonstration, and important points about the profession that should be shared with students, such as the various venues court reporters and captioners work in and skills such as texting and a connection to musical instruments that can translate to success in the profession.
"Presenting at the local high school career day was a very rewarding experience," said Steve Clark, CRC, a CART captioner from Washington, D.C., who participated in a career fair at South Lakes High School in Reston, Va., last spring.
"Students were intrigued by the steno machine and the explanation we gave as to how it works and the role played by both the court reporter and captioner. But once they looked at the tablet in front of them and saw their words appearing in realtime, they were blown away! What a great experience," said Clark.
Read all of the tips NCRA has compiled to help members plan a court reporting and captioning demonstration here. For more Court Reporting & Captioning Week resources, visit NCRA.org/meetings.