By Deanna Baker
Sheri Smargon, RDR, CRR, CRC, has shared her experiences on social media working with the Federal Emergency Management Agency (FEMA), and I thought everyone would enjoy hearing more about these adventures.
Sheri, tell us a little about your background as a CART captioner, I know it's extensive.
I started captioning directly out of court reporting school in 1992, working for our local county commission. We were the first county in the nation to caption its government meetings, and it was in an open caption format, which means that anyone turning to the channel could see the captions, whether they wanted to or not. In the early days, it probably was more of a "not" situation. The people in charge figured if you could write "on that machine," you must be able to caption. Boy, we proved them wrong!
After two years, I moved from Florida to Pittsburgh, Penn., and went to work at VITAC, the country's largest captioning provider. I loved the job, but hated the weather. I'm from Massachusetts originally and thought I missed snow and seasons. Not so much! So after two years, I moved back to Florida and started freelance work for the local court reporting firm who had the contract with the county courthouse for court reporters.
During that time, even though we had a seniority system, I was the only one with any realtime or captioning experience, so I was given the opportunity to realtime a vice presidential debate with Al Gore and Jack Kemp. I was realtiming, and a transcript of my work was being printed every 15 minutes for the hundreds of national and international media that were in attendance. It was quite the experience.
I only did court reporting for a short time because then I got a job with Caption Colorado, captioning from home. I worked there for seven-and-a-half years. During my time with Caption Colorado, I captioned a lot of news, baseball games, and the Olympics a few times.
Then the opportunity to caption in Sydney, Australia, popped up. So I moved to Sydney to work for the Australian Caption Centre. While there, I captioned everything from news and reality TV to sports, like cricket and rugby. It was quite a learning curve because I had to adjust my dictionary to true English spellings (colour, favour, etc.) I worked there for six months and moved back to Florida, picking up with a few captioning companies and a court reporting firm.
I went to an NCRA Convention & Expo in New York City and ran into my old boss and former NCRA President Kathy DiLorenzo. She told me VITAC was hiring, so I should apply again. I did apply because now they were allowing people to work from home, versus having to move to Pittsburgh. I was hired on by VITAC in 2007.
While there, I captioned everything from CNN to the Stanley Cup Finals to the Olympics. I also captioned a couple of musicals on NBC: "The Sound of Music" and "Peter Pan." Never having seen either the movie or the stage production of either tale, there was a bit of a learning curve for sure!
I left VITAC in January of 2016 to strike out on my own as an independent contractor, trying to find different CART and captioning experiences. My final job with VITAC was captioning the Golden Globe Awards. So I think I went out on a high point.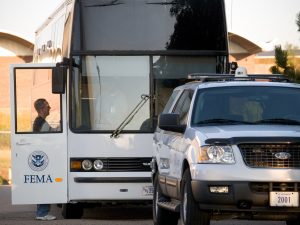 How is it you started working with FEMA as an independent contractor? What was the hiring process like?
I am the administrator of a group on Facebook called The Captioning Klatch. I started it a few years ago, just as a place to come and talk about all things captioning and CART related. One of our members posted that FEMA was hiring for CART writers, so I looked at the job description and decided to apply.
The hiring process involved a lot of paperwork … reams, it seemed like at times. Eventually, I was given an interview, but no one told me it would be a Skype interview. So I was in my pajamas, with no makeup on, because I was in the middle of my captioning day. I kept my webcam aimed pretty high that day for sure!
I was asked a lot of questions by interviewers, both hearing and Deaf, and then I was given a practical examination, where the interviewers could see me caption. The clip they played for me was a press conference from the aftermath of Hurricane Katrina. Luckily, I had captioned the news from Louisiana during that time, so I had all of those cities and parishes in my dictionary.
A short while after the interview, I was offered the job, contingent on a thorough background check and security clearance. While I have nothing to worry about, having the FBI contact friends and family is kind of freaky!
You were deployed to an assignment in North Carolina. What was an average day, the good and the bad, and how you were helping in this emergency situation? How much notice did you have beforehand?
When there's a disaster and the Joint Field Office (JFO) is opened, that becomes the hub in the state for FEMA employees to go and work. They go out in the field to different locations, called Regional Field Offices (RFOs) but in general, the main administration and IT, etc., are located at the JFO. They work a minimum 12 hours a day, seven days a week, in the first couple of months, just because of the sheer number of things that have to be accomplished to help the disaster survivors.
When I arrived at the JFO, the disaster was so new that in the first few weeks of the aftermath, staff was in a temporary location while they looked for a permanent location. FEMA remains on-site, with a state presence, for quite some time. There is still FEMA staff in Louisiana working on Katrina, if that gives you a timeline. So I was with everyone else in the temporary offices, basically, just finding a spot to sit where I could.
My first day at the temporary JFO, I was issued a FEMA computer, signed paperwork, got login information. All of the usual boring, but necessary, aspects of being on a temporary assignment with the government. I then had to be issued a projector and a portable screen for me to take to any realtime jobs that may be scheduled. When all was said and done, between my personal equipment, a FEMA computer, a projector, and a screen, I had more than 100 pounds of equipment to carry with me.
There are no average days when it comes to a disaster. The slogan is "If you've been to one disaster, you've been to one disaster." Every day is different. I would go into the office at 7 in the morning, and see what the schedule was like for the day. If a disaster site wanted or needed sign language interpreters, they would put in a request and that was added to the interpreters' schedule. And almost always, the meeting was at 5 or 6 at night with a couple hours' drive to get to the location. Because I was the one and only realtime reporter, I was assigned to larger events, so that we could reach more people. Sometimes, it was a gymnasium with 200 people; sometimes, it was a city council chamber with 30 people. Every day was something different.
There were also days where we had no assignments to cover, but I would still go into work at 7. I would work on my dictionary, go through a recently written file to add acronyms or anything I may have gotten wrong. Eventually, on days where I didn't have a meeting, I decided to hook up my projector and aim it toward the wall and practice to whatever I could find on the Internet.
I believe you were gone for two weeks. How were you able to manage your own clients and regular work at home?
Because I work with a great court reporting firm, they were able to take me off the books the week before I deployed. I was initially supposed to deploy to a staging area in Atlanta, Ga., because of the fact there was no office set up in North Carolina yet. So I was already off the books for my court reporting firm and wasn't accepting or bidding on any CART or captioning work. I ended up not going to Atlanta and just having my deployment delayed a week, which was great for me because I had a court reporting training class in Washington, D.C., that I had scheduled months previous to my deployment. Gratefully, scheduling worked out for me.
Were you using your own equipment? What was your setup? Were you working with any other CART captioners?
I was mostly using my own equipment, yes. So I brought my Luminex, cables, cords, extensions, laptop, and cool table with me. FEMA provided the projector and the screen. I wrote a proposal for FEMA to buy everything they needed for the CART project, but as of this time, it's still bogged down in purchasing … or somewhere governmental.
FEMA wants to hire 37 more CART captioners over the next three years. So far, they have hired myself and one other reporter in Ohio, Molly Adams. We both deployed once with the caveat we will use our equipment one time, and then FEMA would have to purchase what we needed. Our concern was if our personal equipment breaks while in the field, we can't work while deployed and we can't work when we get home. It's not like you can go buy most of our gear at Best Buy. So, Molly and I continue to wait.
Are there any unique skill sets that are needed for this type of work?
You have to be okay with not being home for an extended period of time. I did 30 days, and that was a lot. Most people do 60- to 90-day deployments and can rotate home for two weeks at a time.
You have to be okay with being in a strange place and not having your creature comforts of home, potentially. I was in a rural area, and I've never traveled behind so many tractors! You're staying in a hotel, most likely. And while the hotel I was in was nice, there was no oven. It had a stovetop and a fridge and microwave, but no oven. What I wanted most was a roast. I learned tips and tricks on how to find rooms with full kitchens, so next time I get deployed, I am hopeful a roast will be in the offing.
Would you recommend this type of work to other CART captioners?
I would totally recommend this to CART captioners. While there were never any people who were Deaf or hard of hearing at any of the meetings I went to, I was thanked quite a bit by people in attendance, who either were taking notes and missed what was said or just thought it was nice to have access. Most didn't even realize how the "words were getting up there" on to my screen. They didn't realize it was a real person. So the education aspect was especially nice.
Is this a long-term assignment?
We have a two-year contract, which may or may not be renewed when that time comes. Hopefully, I will be able to report a positive update in the next few months regarding our equipment. Obviously, if you get deployed, it means someone, somewhere, is having the worst day of their life. You wouldn't want that, but you also want to be there to be helpful, if you can.
I wouldn't want this to be my full-time job due to the traveling and being away from home, but branching out and helping people, actually one on one, is quite a rewarding experience.
Deanna Baker, RMR, is a broadcast captioner in Flagstaff, Ariz. She can be reached at dpbaker@mindspring.com.