U.S. Rep. Ron Kind (Wis.) officially recognized 2017 Court Reporting & Captioning Week in a floor speech before the U.S. House of Representatives on Feb. 14, paying honor to the critical work court reporters and captioners do both in and outside of the courtroom.
In his speech, Kind said he appreciated his work with court reporters while he served as a special prosecutor in Wisconsin, and he praised the contribution that NCRA members have made to the Library of Congress Veterans History Project. He also recognized the Hard-of-Hearing Heroes project recently launched by the National Court Reporters Foundation (NCRF). Kind also noted that his wife, Tawni, has served as an official court reporter for nearly 25 years.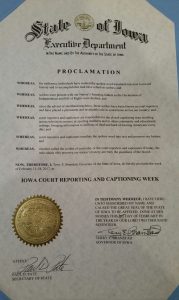 Other official proclamations recognizing the weeklong celebration have been secured in the states of Alabama, California, Colorado, Florida, Illinois, Iowa, Kansas, North Carolina, Ohio, Oklahoma, Pennsylvania, South Dakota, and Washington as well as in Bexar County, Texas.
On Feb. 11, NCRA President Tiva Wood, RDR, CMRS, a freelance court reporter from Mechanicsburg, Pa., kicked off Court Reporting & Captioning Week as a guest on Stenographers World Radio. Wood was interviewed by host Al Betz and discussed the future of the profession and the importance of the weeklong event sponsored by NCRA to raise awareness about the court reporting and captioning professions.
On the national stage:
In conjunction with Court Reporting & Captioning Week, NCRA is unveiling DiscoverSteno, a multi-pronged initiative that provides anyone interested in learning more about a career in court reporting or captioning the opportunity to explore, consider, learn, and see real professionals sharing why they love what they do.
During the NCRA Firm Owners Executive Conference held Feb. 12-14 in Tucson, Ariz., attendees marked Court Reporting & Captioning Week by sharing photos of themselves and friends on social media framed by a specially designed photo frame.
NCRA's National Committee of State Associations is holding its annual challenge that calls on all state associations to join forces with their members to participate in career fairs, provide realtime demonstrations at high schools and guidance counselor meetings, or host Veterans History Project events to celebrate Court Reporting & Captioning Week. Prizes will be awarded.
NCRA's Student Committee has challenged court reporting students to transcribe as many tests as possible during the week to qualify for a prize. Under the contest's rules, participants do not have to pass the tests, simply transcribe them. Winners will be announced in the Feb. 22 issue of the JCR Weekly.
2017 Court Reporting & Captioning Week will wrap up with a Hard-of-Hearing Heroes Veterans History Project being cohosted by NCRF and the Hearing Loss Association of America. The event marks the premier of the Hard-of-Hearing Heroes Project, the latest addition to NCRF's Oral Histories Program. Funded by a grant by the American Society of Association Executives, the initiative seeks to preserve the stories of America's war veterans with hearing loss using CART captioning. The stories will become part of the Library of Congress Veterans History Project.
See what's happening across the country:
The Arizona Court Reporters Association will honor the court reporting and captioning professions at a fun mixer it is hosting on Feb. 17 to mark Court Reporting & Captioning Week. Members of the profession are encouraged to attend and share stories on the importance of reporting and captioning, and to bring people up to date on market developments.
Members of the Bexar County Court Reporters Association, in Texas, have already participated in 18 school demonstrations and have an additional eight more planned for later in the spring.
The California Court Reporters Association is marking Court Reporting & Captioning Week with profiles spotlighting members. A profile is emailed to members each day. The Association is also urging members to mentor court reporting students.
The Florida Court Reporters Association is going to the state capitol in Tallahassee to mark Court Reporting & Captioning Week where members will have a booth, meet with lawmakers, and host a reception.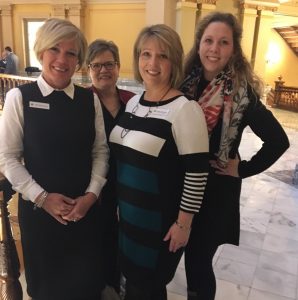 Members of the Kansas Court Reporters Association received an official proclamation for the week from the state's Supreme Court. Members are also hosting a breakfast for a local board of county commissioners, which is recognizing the weeklong celebration. In addition, members spent a morning at the state's capital in Topeka, providing a realtime presentation to the Senate Judiciary Committee.
The Pennsylvania Court Reporters Association is hosting a series of Veterans History Project events at local restaurants. The association also created a recruiting video for its members and schools to help showcase the profession.
Members of the South Dakota Court Reporters Association are reaching out to local media outlets to generate articles about the profession.
Members of the Texas Court Reporters Association will meet with their legislative team and key legislators during a capitol day being held Feb. 15 in Austin. TCRA is also sponsoring "Off the Record and On the Run," a virtual run being held Feb. 1-28, in celebration of Court Reporting & Captioning Week, open to anyone.
The Washington Court Reporters Association created a very clever recruiting video geared toward potential students. Members from around the state are also participating in career fairs and using resources from NCRA's Take Note campaign to showcase the profession as part of celebrating the week.
The Wisconsin Court Reporters Association is holding "3 for Free." Members who do three promotional events to showcase the court reporting and captioning professions are eligible to win a year's membership in the organization.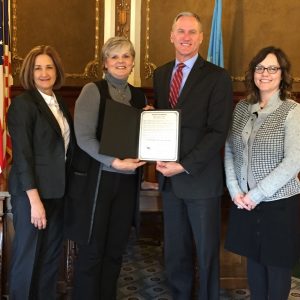 How schools are marking the week:
The Atlantic Technical College in Coconut Creek, Fla., is hosting a Court Reporting Open House on Feb. 16 to showcase career opportunities.
The College of Court Reporting, Valparaiso, Ind., is hosting a Pop-Up Job Shop and has invited various agencies, captioning companies, and firms to educate students and the general public about the court reporting and captioning professions. The college is also hosting a Veterans History Project event, a financial aid workshop, and a special presentation by Kathy DiLorenzo, RDR, CRR, CRC, a past NCRA President. The week will wrap up with an awards soiree.
The Des Moines Area Community College, Des Moines, Iowa, is hosting two information sessions where prospective students can learn about the court reporting and captioning professions.
Vendors celebrate too:
Star Levandowski, director of marketing at Stenograph, posted a blog highlighting the top three reasons to admire the stenography profession, in honor of Court Reporting & Captioning Week.
Alpha Court Reporting in Nashville, Tenn., posted a GIF on its Facebook page in honor of Court Reporting & Captioning Week showcasing how fast court reporters can write and celebrating all stenoheros.
The ways to celebrate 2017 Court Reporting & Captioning Week are unlimited.
Resources are available through the Resource Center on NCRA.org and on its Take Note website, and include press release templates, PowerPoint presentations, talking points, printable posters, other marketing materials, and more.
Be sure to share with NCRA how you are celebrating the week by emailing details to at pr@ncra.org and by posting on social media using #CRCW17.