By Rachel Barkume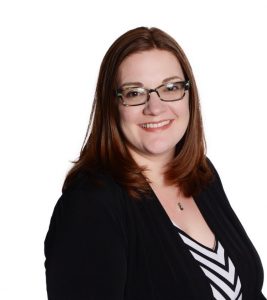 Freelance reporter Aimee Edwards-Altadonna, from Modesto, Calif., came to reporting as a second career, looking to blend her creative side with her interest in the legal field. She talks a little about how she entered the field, what she loves about reporting, and how she and her husband Vinny balance home, family, and work life.
What made you want to become a court reporter?
I came to court reporting in one giant full-circle moment. I wanted to be a lawyer in college and maybe become a lobbyist for the National Organization for Women (NOW) or work for NOW as an attorney fighting for women's rights and equal pay. I even went so far as to have submitted my law school application and completed the LSAT. While wrapping up my college career, I started working for lawyers as a legal assistant/secretary so I could get a good feel for what that world would be like — and to be honest, I didn't love it. Right about the time I had to make the call to start law school, I found a new hobby — glass fusing. I fell hard and my hobby quickly turned into an obsession. So much so that I decided to take a year off after college and just play with it. That year off turned into seven years, and I found myself running a full-time small business selling fused glass artwork and jewelry in my galleries in Monterey and Carmel, Calif. It was a great time, and I learned a lot about what it takes to be a small-business owner in California. I eventually closed the business when my first son, Owen, was born. I've always been an ambitious person and, for me, I needed to do more than be a full-time, stay-at-home mom. I started thinking about going back to school. I knew I did not want to go to law school anymore. I did some research and started considering court reporting. I started court reporting school online when my son was 10 months old, and it was the perfect combination of the legal world and artistry in becoming proficient on the steno machine.
What tips would you give to a new professional who is trying to maintain a healthy work/life balance?
Get a massage. Get a massage. Get a massage! Did I mention, get a massage? You have to take care of your body. I started out getting routine massages every month, and then every two weeks, and now I get one almost every week. It makes a huge difference in the discomfort I feel from sitting all day during depositions and driving all those miles.
I also think it's important to always have something to look forward to such as a trip to a convention or a little ocean getaway with the whole family over a weekend. Having those plans in place reminds you why you are working so hard all the time and reminds you that there is life outside of work and a light at the end of the tunnel or editing cave.
What are your future goals for your court reporting career?
In the short term, I would like to complete the last leg of my RPR. When I am finally certified, I put it in my five-year plan to be a realtime reporter. The first two-and-a-half years have flown by, but I'm steadily improving my skillset.
What are some of your favorite time-saving practices, techniques, or gadgets?
I love Cozi, a calendaring app. Our whole family uses it, and it makes coordinating our life so much easier. It lets you set reminders for things on your calendar and manage your grocery list at the same time. I calendar out my due dates, and it dings and reminds me as they approach.
I also love the Expensify app. I use it to manage all my receipts and mileage log. I take photos of my receipts and then make reports for myself at the end of the year based on categories I chose. It's fabulous during tax season. I love not having to keep a giant stack of receipts. You can even email the digital receipts for stuff you buy online right into the app.
Do you have a mentor?
Yes, I have a mentor! I found her when I was already nearing exit speeds, but her constant advice has been invaluable to me as I transitioned from a student, to a student and a proofer, to a student and a proofer and a scopist, and all the way out into the working reporting world. She has guided me and been the most amazing sounding board. She has talked me off many ledges and became one of my very best friends, too. One of the best things she instilled in me was to work hard and play hard. She has always said that some days you are the bird, and some days you are the statue. So when I have a fabulous day and passed a test or nailed readback like a boss, I am the bird flying high. And when I have a horrible, rotten, no good, very bad day, I am the statue below the bird. It has taught me to take each day as it comes knowing that the bad day will be over soon, and I will be back to a fabulous day very soon. Having a mentor is very important for a student and a new reporter. There are so many little things that will come up as you go along, and having someone who just gets it and can help you through will save your sanity.
Your husband, Vinny, has been a prominent supporter of you in your court reporting career. How do you feel that has helped you in your court reporting endeavors? What advice would you or Vinny give to a significant other of a court reporter?
Vinny has kept me sane and fed! He went to culinary school, so we eat really well. He celebrated every little victory along the way to me becoming a reporter and continues to be my biggest supporter and cheerleader. He also lets me vent on the bad days. I would not be a reporter if he hadn't had my back from the very start. Plus, he doesn't complain when I travel for jobs or conventions. He and the kids take it in stride, which makes it so much better.
Vinny's advice for court-reporting significant others:
As the husband of a full-time court reporter, there are three things that I've had to learn:
Keep it in perspective — Aimee is constantly dealing with all the little ups and downs of her career. She's constantly juggling jobs, transcripts, scopists, proofers, daily travel schedules, invoices, cash flow, expenses, conventions — the list is endless — and sometimes she gets caught up in that. It can be a bit overwhelming. I try to look at the big picture and keep her motivated and know that by month's end, we'll be good.
Be flexible — my depo lovin' court reporter does not have a set schedule, and that means I need to be able to flex and adjust as needed. My work schedule can flex at times, and this allows us the ability for her to pick up that last-minute, out-of-town job. It also helps to have a support structure around us as well.
Team effort — Aimee and I are a team, and as the husband-unit in this team, I often have to fill in when she's out of town. We don't break up our relationship into "things she does" and "things I do." We just get it all done. Wash those dishes, clean those clothes, pick up/drop off the kids, go shopping, make dinner, go to that parent-teacher conference solo — it's part of the game, so just get it done!
What do you like best about being a court reporter?
I love how every single day is different. I am a bit of a road warrior and love exploring new cities, so I will happily cover work all over California — Central Coast, Central Valley, the greater Bay Area, and Sacramento. I cover from Fresno to San Jose to San Francisco and love it all. Every day I am in a new location if I am not at home editing away.
I love the freedom reporting affords me as well. If I want to go to Monterey for a day or two, I can pick up a job by the sea and work a little, too. I also love the fact that if I have a terrible day with an attorney who won't stop talking over the witness, I never have to go back and work with them again. I have total control in who I will and won't work with, and that feels amazing!
Court reporting has also brought me the most wonderful group of friends and colleagues ever. I have never met a group of people who are so wonderfully supportive and always trying to lift each other up. I stand in awe of the tribe I have created and their accomplishments as reporters and in life.
What do you like to do when you're not reporting?
When I am not reporting, I am home with my family, curled up with a book or binge watching a show with my menagerie of fur babies smothering me with love. We have three dogs, a cat, an 85-pound sulcata tortoise, and a baby sulcata tortoise. (The tortoises do not cuddle.)
We also love to take family day trips to Monterey, our happy place. Earlier this year, my husband and I started selling LuLaRoe clothing after I purchased a new wardrobe slowly last year. So now we can be found selling the LuLa in our Facebook group or out of our home boutique in our "spare time." I even took it to the California Deposition Reporters Association conference in Napa a couple months ago and shared it with my fellow reporters. It was so much fun!
Can you tell us a little about your background and current position?
I have a B.A. from California State University Monterey Bay in human communications with a concentration in women's studies. I did the majority of my reporting education online through Bryan College and College of Court Reporting. I qualified at West Valley College in Saratoga. I broke my ankle in three places and dislocated it the very same night I qualified so I didn't return to West Valley to prep for the Certified Shorthand Reporter (CSR) due to my injury and the distance — up to three hours one way in traffic. I prepped for the CSR at Humphreys College in Stockton, 25 minutes from my home, after I recovered enough to do so. I passed all three legs of the CSR on the first try after I won my appeal on the machine portion of the test.
Vinny and I have been married for 17 years and have two pretty awesome spawn. Owen is 9 and loves science and math and karate and basketball. Chloe is 7 and loves all things artistic, from drawing to dancing to singing. They both devour books at a startling rate just like their parents do, and they are way into technology and computer and video games.
I currently freelance for multiple firms. I am a deposition reporter only. I do not cover court work or hearings. I go everywhere for work. I love to work full-day jobs a couple times a week and frequently cover video jobs. I have done everything from work comp at the beginning to doctors to asbestos work to prison jobs and construction defect jobs in a room with 17 attorneys. I am always up for a challenge and will try most any type of job at least once.
Rachel Barkume, RPR, is an official reporter from Oakhurst, Calif., and a member of the New Professionals Committee. She can be reached at rachel.barkume@gmail.com.