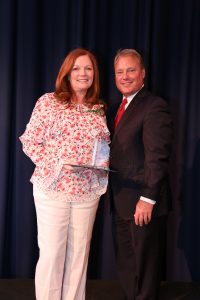 On April 25, Karla Martin, RPR, was presented with the Business Leadership Award at the 29th Annual Mayor's Disability Awards in Tempe, Ariz. She was recognized for her work in CART captioning, including covering deaf and hard-of-hearing events and for her volunteer work with the emergency responder interpreter credentialing pilot program. Martin answered a few questions for the JCR Weekly about her background in CART captioning and what the award means to her.
Tell me about what kind of work you do and who some of your clients are.
I provide CART captioning services for several state agencies in Arizona, and I have provided services on-site and remotely for Arizona State University (ASU) and most of the community colleges in the Phoenix metro area. I also work with the Arizona Superior Court providing CART captioning for parties in civil and criminal cases. One of my most fun gigs is captioning live theater on cruise ships. I know it sounds so fun, but it can be challenging showing up and not knowing exactly what the setup and demands of the job will be.
Even though my focus is on CART captioning, I still take medical malpractice depositions that comprise possibly 10 to 20 percent of my total business. It's true that real life can be so much more interesting than fiction, and I love what I learn every day on the job. I think it's ironic that I have learned so much about working in court as a CART captioner. I worked as a freelance reporter taking depositions prior to transitioning to CART captioning.
How were you nominated for the Business Leadership Award?
I was nominated for the Community Service Award by Michele Michaels, who is the hard-of-hearing specialist for the Arizona Commission for the Deaf and the Hard of Hearing. I have been providing CART services for several of the local Hearing Loss Association of America groups for a number of years, and I believe that is one of the reasons Michele nominated me. When the decision was made, I was awarded the Business Leadership Award. I feel like I do fit in both categories.
The mission statement of the awards event is: "Since 1988 Tempe has proudly presented the Mayor's Disability Awards honoring excellence in individuals with disabilities, employers, and others who have shown dedication to the equality, inclusion, and commitment to improving the quality of life for all Tempe residents. The goal of this annual event is to encourage everyone to work towards a fully inclusive and accessible Tempe."
I live in Tempe, and I have played flute and piccolo in Tempe Symphony since 1990. This is a community symphony, and all of the players are volunteers. My first CART work was at ASU, also located in Tempe. I am also an advocate for animals, and I have served on boards of animal welfare organizations.
What does it mean to have been recognized for your work within the community?
I'm honored to be recognized by the City of Tempe. I've been committed to providing services for the Deaf and hard-of-hearing community for over 20 years. I took four semesters of American Sign Language so I could better communicate with clients and colleagues who were Deaf. One of my favorite things about CART work is the appreciation expressed by clients. It's so rewarding when someone randomly thanks you for the service they received.
Did you have any idea you were being considered?
Yes, I knew that I was being nominated. Michele requested information from me to assist her in the nomination process. I had attended the event a few times in the past, and I had secretly hoped one day I would receive an award.
Why is providing CART to those with hearing loss so important to you?
There are many reasons providing CART is important. It's an accommodation for a protected class of individuals under the Americans with Disabilities Act. Our services provide communication access for our consumers' safety, health, education, training, legal matters, and entertainment. Some days the importance is to raise the awareness of our services to administrators and disability resource managers of high schools, colleges, and hospitals. Other days it's demonstrating to consumers what is possible with CART captioning technology to enhance their lives by receiving equal access to communication at their workplace.
How long have you been a CART captioner? Were you a freelancer or official court reporter prior? How long have you provided CART services?
I started providing CART for ASU in 1995. At the time I was working as a freelance deposition reporter. I started with some evening classes because I didn't want to turn down depo work. After that it was a transition process. In 2005, I took a part-time staff position at ASU for a few years.
How did you enter the profession? How long have you been in the profession?
My first job as a reporter was at a freelance agency in Rochester, N.Y., in January of 1979. At that time I had been out of school for four months and passed part of my Illinois CSR. I was working as a legal secretary in Decatur, Ill. I moved to New York for the opportunity to work immediately since they didn't require certification. It was a really busy firm, and I started taking medical malpractice depos six months after starting work as a freelancer. I had a great mentor reporter there. The firm was one of the first to embrace computer-assisted translation, as it was called then. After two years, I moved to Arizona for warmer weather.
Where did you go to school?
I decided to pick up court reporting as a "minor" while I was pursuing a bachelor's degree in applied music at Southern Illinois University – Carbondale. Between the flute and my machine, I spent the majority of my last two years of college in a practice room. I didn't know what court reporting was until I had two roommates at college one summer who were finishing their internship and told me when they got out of school, they were going to "make a lot of money."
What has been the most rewarding part of your career?
It's rewarding for me when I work with someone who is going to school, and then later after they graduate and are working in their chosen field, we end up working together or see each other at disability-related events. It's always rewarding when clients graduate from their programs of study, especially when I attend or work their graduation ceremonies. I like to believe I contributed to their success.
Please add any additional information you feel would be helpful to include.
Several government agencies in Arizona partnered in 2016 to create the Arizona Emergency Response Interpreter Training for ASL interpreters and CART captioners. The agencies are the Arizona Commission for the Deaf and the Hard of Hearing, Arizona Department of Emergency and Military Affairs, Department of Forestry and Fire Management, and Maricopa County. I am one of three CART captioners in Arizona who were selected, trained, and received the emergency response interpreter credential. The program is a pilot, and the sponsoring agencies are hopeful other states will follow Arizona's lead and create emergency response training programs for interpreters and CART captioners in their states.