Valerie Melkus, RPR, Charleston, S.C., was named recipient of the 2017 New Professional Reporter Grant. The Foundation also announced that Laurel Stalnaker, a student from Sumner College in Portland, Ore., is the recipient of the 2017 Robert H. Clark Scholarship.
"I am honored and thrilled to be the recipient of the New Professional Reporter Grant, though I'm certain that every person who applied is just as deserving. Starting out as a new reporter is tough. Anyone who's made it this far has been working his or her behind off," said Melkus. "I've been using an old, noisy, slow, refurbished laptop for work. This grant will enable me to not only pay my bills, but I will finally be able to get myself a new computer. I am beyond grateful."
NCRF awards the annual New Professional Reporter Grant to a reporter who is in his or her first year of work, has graduated within a year from an NCRA-approved court reporting program, and meets specific criteria, including a grade point average of 3.5 or above, a letter of recommendation, and active work in any of the career paths of judicial (official/freelance), CART, or captioning. Melkus, a graduate of the College of Court Reporting in Valparaiso, Ind., is the 13th recipient of NCRF's New Professional Reporter Grant. She was recommended by J. Lynn Clark, RMR, president of Clark & Associates.
"I have been reporting and training new reporters since 1979. Valerie has been the most impressive new reporter I have ever had the pleasure to work with," Clark wrote in her recommendation. "I feel like I have hit a court reporting home run with [Valerie]. She loves learning new things and implementing them in her writing. Her enthusiasm for court reporting is contagious!"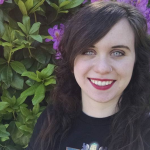 The $2,000 Robert H. Clark Scholarship is named for the late Robert H. (Bob) Clark, a court reporter from Los Angeles, Calif., who was dedicated to preserving the history of the profession. Stalnaker is the third recipient of this scholarship.
"I am humbled to have won this scholarship, and I am grateful to have been nominated by my instructor. It will allow me to invest in myself in my new profession," said Stalnaker. "I have been in school for two years now, and since day one I have been using an older student steno machine. Lately it has been having connectivity issues during class and, even worse, during tests. Recently I have been looking to buy a newer model for reporting professionally since I am only three tests away from graduating, and this scholarship will allow me to start my career on a positive note. I am eager to invest in a newer model and to excel in my last exams before I graduate."
Students are nominated by instructors or other officials at their schools. To be eligible, nominees must be NCRA members, enrolled in an NCRA-approved court reporting program, have passed at least one of their program's Q&A tests at 200 words per minute, and possess a GPA of at least 3.5 on a 4.0 scale, among other criteria.
"Laurel has been, from day one, nothing less than a very devoted student. Her attendance has been superb, and her commitment to this program has never once wavered," said Jacqueline Butler, CRI, who nominated Stalnaker. "She has stayed focused on the end result. I have no doubts whatsoever that she will make a great reporter. She takes her work very seriously and makes sure she learns all she can along the way. It's wonderful to see her win this award!"
To learn more about NCRF's scholarships and grants, visit NCRA.org/NCRF/Scholarships.