By Kevin Daniel
We have a saying in Vegas: What happens in Vegas … shows up on Facebook. No doubt many of the 2017 NCRA Convention & Expo activities will find their way to Facebook, but in a good way, I'm sure.
As a resident of Las Vegas for the last 16 years, I'm in an exceptional position to suggest some extracurricular activities for Convention attendees. As any Las Vegan can attest, we are all regularly pressed into service as tour guides for family and friends. And this year NCRA asked for some tour advice. I had only one condition: If I'm being asked to be the tour guide, then I get to include my personal — sometimes quirky — favorites on the tour.
Seeing the stars
So let's start with what Vegas is partly famous for: our headliners and in-residence performers. Celine Dion, Britney Spears, eight or nine Cirques, along with 10 magicians and five mentalists are here, to name just a few. Rather than spend time describing a myriad of options for entertainment, I will refer you to the website Vegas.com. This is where I go when I want the latest information on what's available to see and do in Las Vegas, and it will be more current than anything I could list here. If you're flexible, there are several Tix Tonight kiosks along the Strip where discounts are available for some shows the same day.
My personal favorite in this category is influenced by my interest in magic as a hobby. Over my 16 years in Vegas, I have seen most of the magicians who have performed here, and my favorite show is Mac King. His afternoon shows are at 1 and 3 p.m. at Harrah's Casino, and his show is appropriate for all ages. It is dark on Sundays and Mondays.
Dining with a view
In case you haven't been to Las Vegas in a while, you should know that we now have some of the finest restaurants in the world. Do your research before coming, and you can find the perfect restaurant limited only by your budget. I'm suggesting three restaurants that offer fine dining with some of the best views.
Hands down, the Top of the World Restaurant at the Stratosphere has the best view, with a rotating restaurant 800 feet high.
Next is the Eiffel Tower Restaurant at Paris. From its perch over the Strip, it affords one of the best views of the Bellagio Fountains dancing every 15-30 minutes.
My last suggestion for a nice dinner with a Vegas-only view is Oscar's Restaurant in Downtown Las Vegas. A former Las Vegas mayor, Oscar Goodman, opened his restaurant in the Plaza Casino at the end of the famous Fremont Street canopy in Downtown Las Vegas.
If food is your passion and the view doesn't matter to you, there are Foodie Tours and Gourmet Walking Tours so you can sample dishes from multiple restaurants over one evening.
In the food category, my tastes are rather simple: Find the best hamburger and shakes in town. For my money, I like Holstein's restaurant in the Cosmopolitan. They have a wide selection of burgers and shakes with a full bar to slake your thirst while you wait to be seated.
Thrill seekers
If extreme experiences are your thing, Vegas has a few exceptional hair-raising opportunities. There is the High Roller Ferris wheel at the end of The Linq shopping area on the Strip, just south of the Flamingo Casino. It is a 30-minute ride, with a 540-foot high view of the Strip at the top. Pods with onboard bars are available for the insatiable partiers among us. You know who you are.
There are two major zip lines in Vegas, one between the two towers of the Rio Casino, and two versions of zip lines running the length of the lighted canopy on Fremont Street in Downtown Las Vegas.
And for the adrenalin junkie, look no further than the Stratosphere's five rides. At the extreme end of extreme experiences in Vegas, there is SkyJump, an 829-foot, 40-mile-an-hour free fall from the deck of the Stratosphere. Bring a change of underwear.
As a former roller coaster enthusiast, I highly recommend driving 20 miles south to Primm, Nevada, to Buffalo Bill's Casino (featured in the Showtime series "Ray Donovan"), home of The Desperado roller coaster. It's in my top 10 coasters, nationwide.
Sightseeing in and around Las Vegas
For getting around Vegas, consider open-air buses with on-and-off privileges, cabs, Uber, and Lyft. The best place to catch a cab in Vegas is to go to the taxi station at any casino's main entrance. Taxis are not permitted to stop and pick up passengers along the Strip. There is a monorail that services most of the Strip. Buy the day pass if you plan to use it at all. However, the monorail does not service the airport or Downtown Las Vegas.
There are helicopter tours of the Hoover Dam and Bypass, the Grand Canyon, and both day and night tours of the Strip. If you haven't seen it, I highly recommend the hour-long drive to Hoover Dam. It is now even easier to see the dam than ever before. In 2010, the Hoover Dam Bypass was completed, and you can park a short walk from the bridge and walk the entire one-mile length of the bridge if you like, offering the best views of the Dam.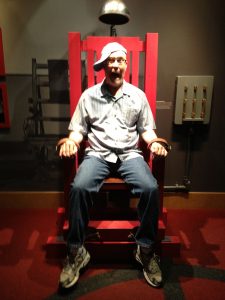 Only-in-Vegas museums
At 300 Stewart Avenue, one block off Fremont Street, you will find the Mob Museum, containing such artifacts as the actual Chicago St. Valentine's Day Massacre wall, complete with bullet holes; a real (non-functioning) electric chair; and many priceless pieces from the time when the Mob ran Vegas. This former Federal Courthouse and post office contains a courtroom where some of the historic Kefauver hearings were held.
I may be the only one who cares about the following attraction, but if you're a fan of pinball games, you won't want to miss the Pinball Hall of Fame. Within its 10,000-square-foot warehouse, you will find hundreds of pinball machines dating from the 1950s to the 1990s. And except for rotating repair and maintenance, all of the machines are playable. It's a cab ride from anywhere, located at 1610 E. Tropicana Avenue.
And, of course, I saved the best for last: The Neon Boneyard. If you remember the classic neon signs from Vegas of the past, this museum is a walk down memory lane. Many of the signs were salvaged, stored, and some restored in this outdoor stroll through the Boneyard. Available only by booking ahead of time, you can take day or night tours or photo tours, or book weddings and other "special events." Dates and times are filled well in advance, so if you would like to take this tour, consider booking soon.
Two special venues
There are more live entertainment theaters in Las Vegas than I can count, but I couldn't close this article without mentioning two special venues and attractions available at the time of NCRA's Convention. The first is a concert by Lady Gaga on Aug. 11 at our new arena, T-Mobile Arena, on the Strip. I've attended dozens of live concerts in Las Vegas, and far and away, the sound here is the best in Vegas. I'm certain Lady Gaga is sold out, but if you're willing to deal with online scalpers, I'm sure tickets can be found.
A hidden community treasure is our 5-year-old performing arts center, The Smith Center. Our 2,000-seat main theater is one of the newest and nicest in the United States, and our Broadway musical series has a play running the week of our Convention. The play is titled "Something Rotten," and information about the play and tickets can be found at thesmithcenter.com.
I hope my suggestions start you thinking about your visit to Vegas this summer. While the temperatures may exceed 110 degrees on the Strip in the summer, you should bring a sweater for the seminars and casinos in general. Start your day with a bottle of water to stay ahead of dehydration. It's a constant concern in Las Vegas in the summer. And any time you are making plans where specific arrival times are important, such as dinner or a show, allow at least double the travel time you think is necessary. Visitors to Las Vegas are always amazed at the time it takes to walk or cab to another location.
Now you know some of the secrets of the locals in Las Vegas. Welcome to my Las Vegas.
Kevin Daniel, FAPR, RDR, CRR, CRC, is a freelancer in Las Vegas, Nev. He can be reached at kwdaniel@cox.net.