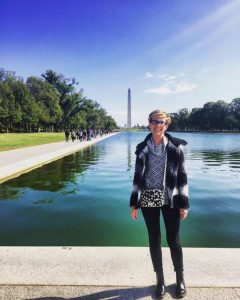 By Jennifer Porto
Jessie Frey has just celebrated her first year working as a freelance deposition reporter. She was a stellar student with infectious enthusiasm. Have you ever met someone who exudes positivity and makes you want to run the extra mile? That is Jessie. She was not immune to the struggles that every court reporting student faces, but she had the will to achieve. By surrounding herself with other mentors who matched her optimism and tenacity, she was able to stay on her path to her goals. Hard work has paid off, and she is living her dream.
What was life like as a student?
Time goes by fast when you're having fun and loving the career that you worked so incredibly hard for. I just celebrated my one-year anniversary as a California CSR. I was born and raised in Los Angeles, and I decided to begin my court reporting journey at South Coast College in Orange, California.
As a new student, my biggest stumbling block was learning how to prioritize getting out of school. Getting through court reporting school is a whole 'nother ballgame versus getting my undergrad degree. I quickly learned that in order to get out of school, I needed to center my life around classes and practice, and I made sure my friends and family knew it. My mission was to get out of school and not get buried in student loans.
Speedbuilding was an exercise in realigning my attitude when I'd reach the inevitable plateaus. The roller coaster of passing a test and then getting bumped into a class where you immediately started to fail again was the strangest and most difficult mental battle I have ever endured. The idea of quitting or giving up was never an option. I had to constantly remind myself to keep pushing past the negative self-talk and the self-doubt. To burst through these plateaus, I made sure to transcribe every single test. I always analyzed my (sometimes many, many) mistakes to see what I was doing wrong, and eventually the amount of those errors would get smaller and smaller until I passed.
What did you do to remain positive and motivated?
One of the most valuable and important decisions I made as a student was to start getting to know working reporters in my state associations. I went to as many functions and networking events as I could. By taking advantage of student discounts, I was able to go to conventions, English seminars, student picnics, and even small networking happy hours that were hosted by some amazing court reporters.
One of the coolest things I experienced as a student was sitting in a seminar listening to reporters who worked at Guantanamo Bay. I left the seminar feeling exhilarated because of the possibilities and options that I would have. I didn't have to limit myself to one path. That same day was a seminar presented by four CART captioners. It was the first time I truly grasped that side of reporting. I'll never forget their stories about how grateful their students were to be able to follow along during class because of the captions these reporters were providing.
The beauty of doing these things as a student is that so many of these reporters are willing to help you. As a student, school feels like it is never going to end, but by surrounding myself with actual working reporters, I was able to visualize myself out in the real world too, and I knew there was light at the end of the court reporting school tunnel. By their association, I was able to keep the spark I needed to stay motivated.
It is all about staying positive. When I felt down about a test, I had people I could reach out to for words of encouragement or advice. As I passed more and more tests, these same reporters were just as excited about it as I was (maybe even more so). These are the same reporters that I now consider to be some of my closest friends. I can rely on them when I have questions that come up about depositions, procedures, or when I just need someone I can vent to about having to cancel plans to get out an expedite.
After you passed the CSR, what reporting path did you choose?
When I got my license, I decided to be a freelance deposition reporter. I find it thrilling to be in a new place, with new people and a new case every single day. No two days are alike. I never know what to expect.
As a freelance reporter, I am able to work for multiple agencies. I am completely free to pick up jobs when I want, take additional work, or enjoy a few days off when I feel overwhelmed or buried with pages — or simply want a long weekend. I love that I have that flexibility. I love not having a boss. I have complete freedom to pick and choose my own schedule, where and when I want to work and how much, but I do miss having the benefits that an official would have. There are no limits to what the reporting road may lead to. I'm happy as a freelancer for now, but I find comfort in the fact that I have a variety of career paths to choose from within court reporting.
What has been an obstacle for you as a new reporter?
As a new reporter, I have struggled with time management and balance. I want to take every job that is offered and work every day, but I have had to learn to gauge the amount of pages versus the time it will take to edit so I can meet my deadlines. It is all about figuring out the balance and what is within reason. I'm still learning how to juggle working, editing, and trying to find the time to practice shortening my writing.
One of the biggest things I had to overcome and learn that wasn't taught in school was how to interrupt and ask questions in a depo setting. It took me quite a while to feel comfortable being assertive with attorneys. I "faked it 'til I made it." Now I have no issue interrupting when there are multiple people talking at once or asking an attorney to speak louder when he thinks I can hear his whispering objection as well as the ongoing testimony.
I'm so thankful I put in the hours of practicing and studying in school to be where I am today. The struggles and ups and downs of court reporting school were worth it, and I'm part of a wonderful profession where I learn something new every single day. My career has only just begun, but I know I have the skills and ability to become a great reporter. There are so many wonderful opportunities in this field that I can't wait to take hold of.
Jennifer Porto is a freelance reporter in Long Beach, Calif., and a member of the NCRA New Professionals Committee. She can be reached at jenn0644@gmail.com