Court reporting teachers, administrators, or mentors looking to improve their skills, seeking new tricks and ideas to helping students succeed, or searching for ways to become a better coaches will find what they need at the 2017 NCRA Convention & Expo, Aug. 10-13 in Las Vegas, Nev., at the Planet Hollywood Resort & Casino.
This year's Teachers Workshop is held from 8 a.m. to 5:30 p.m. on Saturday, Aug. 12. It features new and exciting sessions designed to dazzle and invigorate both seasoned and first-time attendees. Creating a positive learning environment through effective classroom management is just one of the sessions scheduled. It will be led by Len Sperling, CRI, chair of the captioning and court reporting program at the Northern Alberta Institute of Technology in Edmonton, Alberta, Canada, where he has been a faculty member for 20 years. His previous experience includes work as a freelance reporter mainly in the areas of pretrial and quasi-judicial proceedings. He has served on numerous NCRA committees and has presented at various conventions and workshops on court reporting education.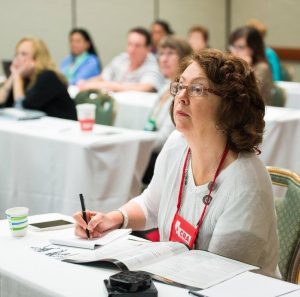 "It is always great to gather with colleagues regarding this wonderful profession so we can all learn new and different ways of doing things to keep our profession going," said Allison L. Sedakis. A court reporter for 23 years, Sedakis is now reporter relations manager with Jensen Litigation Solutions in Chicago, Ill., and works with her alma mater, MacCormac College, also in Chicago, to help promote the profession to potential students. Sedakis will be part of a panel discussion called Court reporting school and onboarding: A firm owner's perspective at this year's convention.
She said sharing information with others can only benefit the profession and hopes that participants will take away new information about what brand-new reporters need to know and should know before taking their first assignment. "It's scary when you are a brand-new reporter and there are so many questions. So we hope to help our colleagues provide answers to ease brand-new reporters' minds," she added.
Joining Sedakis will be Rhonda Jenson, RDR, CRR, CMRS, CME, a court reporter with 33 years of experience and president of Jenson Litigation Services for 31 years. She also serves as vice chair on the Board of Trustees for MacCormac College, which is her alma mater.
Kelly Moranz, CRI, urges all court reporting instructors and school administrators to attend an NCRA Convention & Expo and experience the building of relationships, the sharing of ideas, and the opportunity to learn more about the successes and challenges facing other schools, and walk away feeling rejuvenated overall. She said this year's event is another opportunity for her to exchange experiences and information with peers. Moranz is part of a panel that will discuss the benefits of realtime writer grants to support captioning programs. She hopes participants will take away how important "the benefits of applying and receiving these grants as they provide recruitment opportunities, promote student success and completion to fulfill the employment needs of the profession."
Moranz is program manager and adjunct faculty member for Cuyahoga Community College's Captioning and Court Reporting Program. She has earned Tri-C's Excellence in Teaching Award, NCRA's Educator of the Year Award, and a JCR Award for leadership and teambuilding, and she has presented at NCRA conventions numerous times. Joining Moranz on the panel will be veteran court reporters and instructors Lisa Joe Hubacher, RPR, CRI, from Madison College, Madison, Wis.; Lori Rapozo, RPR, CRI, a faculty member from Green River Community College, Auburn, Wash.; and Sidney Weldele-Wallace, CRI, CPE, also a faculty member from Green River Community College.
"Attending an NCRA conference affords an instructor the opportunity to not only collaborate with other instructors but also to network with working reporters and students from across the nation to curate new ideas in an atmosphere that is exciting, motivating, and rejuvenating," said Carrie M. Robinson, RPR CRR, CRI, a freelance court reporter and court reporting instructor from Hokes Bluff, Ala.
"Sometimes we get in a rut and are going through the motions. After attending a conference, I'm in a different mindset. I'm excited again and eager to put into practice all I have learned," added Robinson, a court reporting instructor at Gadsden State Community College and a freelance court reporter with Alabama Court Reporting.
Other highlights include the school administrator luncheon, the Premier Session featuring keynote speaker Steve Wyrick, the installation of NCRA officers and NCRF trustees, the National Speed and Realtime Contests, and more.
Don't miss the savings on lodging at Planet Hollywood Resort & Casino, the host hotel for the 2017 NCRA Convention & Expo in Las Vegas, Nev., happening, Aug. 10-13. July 4 is the deadline to register to stay and qualify for the special room rates secured by NCRA. Plus, register before the July 4 deadline will be automatically entered to win one of two full refunds of your entire registration to the event. Also, attendees who register to stay at Planet Hollywood on Friday and Saturday nights are eligible for free breakfast and to win one of six new Kindle Fire tablets in a giveaway. Don't miss the magic of the 2017 NCRA Convention & Expo, and the big savings on room rates and convention registration rates. Hurry, register now before the savings disappears. For more information or to register, visit NCRA.org/convention.