In 1992, Deanna Baker, FAPR, RMR, was first introduced to Self Help for Hard of Hearing, the precursor of the Hearing Loss Association of America. "I started volunteering my realtime services to this organization at that time, as they were not aware of CART captioning services," said Baker. "That was 24-plus years ago, and I have been involved ever since."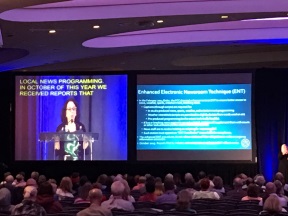 Since first getting involved, Baker has evolved with the organization. Her first experience was organizing the CART and captioning services for all breakout sessions and plenary events for the June 1993 conference. "Back then we used overhead projectors and panels on top to display our realtime from our notebook computers," Baker said.
Baker has gone on to serve on the HLAA Board of Trustees and currently contributes as their CART captioning professional advisor. "I try to keep HLAA and NCRA connected on a variety of levels and am thrilled with their collaboration on the legislative level. I have also asked many HLAA members to be on various NCRA committees, as their input is vital with much of the work those committees are doing." She also notes that since HLAA does a lot of work on a more regional level, she would love to see more individuals and state associations work with and support local HLAA chapters.
As part of her evolving role, Baker was invited to speak about CART captioning starting in 1996 and since has presented on related topics many times at the HLAA conventions. She spoke again at the HLAA conference in June and offered some thoughts on how to approach this topic.
What topics do you speak about for HLAA?
I explained what CART captioning is and how it works, and I also explained what credentials are available and offer some ideas for the resources. This year, I handed out the new NCRA Code of Professional Ethics for CART captioners.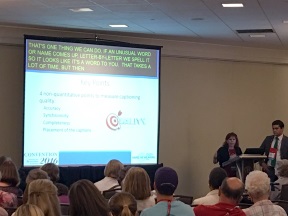 Also, at times, I've reviewed the various new sections of the Federal Communications Commission's guidelines, explained how to complain about poor quality TV captioning, and showed the audience some of the best practices that have been developed. I often share with them NCRA's captioningmatters.com website and go through the benefits that site offers consumers. When new technologies are introduced, I'll keep the HLAA membership up to date on how they can benefit from that.
My co-presenter this year was Michele Michaels from the Arizona Commission for the Deaf and Hard of Hearing. As a consumer, she explained various settings where remote CART captioning can be used such as sporting events, theaters, and mobile CART captioning. She also went through the process for requesting services, who pays for the services, and the relevant ADA regulations.
Do you suggest the topics, or did the organizers ask you to do this? What has the feedback been like?
Sometimes HLAA has a specific topic they want me to talk about, but otherwise I come up with the topic that I see as relevant at the time. All the various talks I have given I have had very positive feedback. The members always have excellent questions. Many are not familiar with NCRA and have many questions regarding certification and especially the high demand for services now.
Do you have advice for other CART captioners who want to provide services for accessibility for conferences on how to explain those services?
For the CART captioners out there, I would highly suggest contacting your local HLAA chapters or other groups serving the hard of hearing, either state or local, and give presentations regarding the "how" of CART captioning. They usually are always looking for speakers at their meetings. Possibly partner up with another CART captioner for a live demonstration!
The national HLAA group had terrific questions, especially around credentials. They were amazed at the variation of credentials and also what it takes to maintain them. They also really appreciated the explanation of the writer and how we "make" words. Also I explained how bloopers happen, using the example of the words part and fart, and how easy it is to have mistakes happen, which had them realizing how talented CART captioners really are!
After the hour presentation, the audience truly enjoyed our conversation and had a copy of the NCRA Code of Professional Ethics for CART captioners to share with others. [Ed. Note: Promoting court reporting and captioning to external audiences is eligible for PDC credit toward your NCRA certifications. Contact ContinuingEd@ncra.org for more information.]