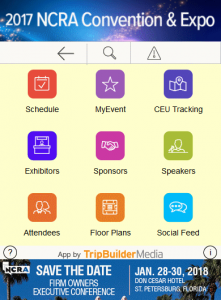 Before heading to Las Vegas for the 2017 NCRA Convention & Expo, download the official NCRA convention app. Click here to find the app directly based on your type of phone or tablet or search for "National Court Reporters Assn." in the Apple App Store or Google Play. Log in using the email address used to register for the 2017 Convention & Expo and the password "NCRA2017". If you did not use an email address to register, log in using your first initial and last name (ex. John Smith's login would be "jsmith") with the password "NCRA2017". Note that this is a totally new app from what NCRA has used in previous years. You can change the password either upon initial login or, once in the app, by logging out and then clicking the button that says "change password."
"I've honestly never seen a more complete convention app," said Doug Zweizig, RDR, CRR, an official reporter in Towson, Md. "This one is from soup to nuts. It has the schedule, speaker bios, CEU tracking, exhibitors, attendees, and much more."
Attendees must use the app to track their CEUs (a QR code will be available at the end of each session), but everyone is encouraged to take advantage of all the other features. Connect with other event participants, exhibitors, sponsors, and speakers by sending them an email directly through the app. Create a personalized agenda with reminders and a Map It feature to help find your way. Access session materials and participate in polls – you might just win a prize! Post pictures to our event feed to share your experience with other participants.
If you get stuck, use this cheat sheet for simple steps to download the app, log in, set up your personal profile, and get started connecting with other event attendees, personalizing your agenda, and accessing up-to-the-minute event information.
If you have any questions about the app, contact membership@ncra.org before traveling or visit the Membership booth or registration desk on-site.