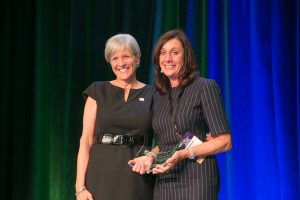 The National Court Reporters Foundation recognized long-time NCRA member Rosalie Kramm, RPR, CRR, San Diego, Calif., with the 2017 Santo J. Aurelio Award for Altruism. The award was presented to Kramm during the Awards Luncheon on Aug. 12 at the 2017 NCRA Convention & Expo, held in Las Vegas, Nev.
The Santo J. Aurelio Award is given to a working court reporter with more than 25 years of experience who has given back to the profession and to the court reporting community with no expectation of any reward.
Kramm began her career as a court reporter in 1981 working for Robinson & Vint Court Reporters. In 1985, she opened Kramm Court Reporting. According to comments submitted by those who nominated her, Kramm is regarding in the profession for her professionalism, willingness to help, and love of promoting the profession.
Read all the news from the 2017 NCRA Convention & Expo.