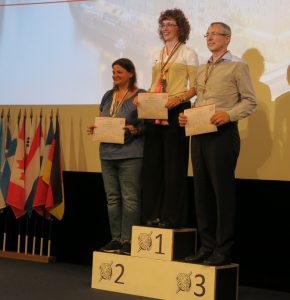 NCRA members dominated the 2017 Intersteno World Speed Competition held during the organization's 51st Congress, which took place July 22-28 in Berlin, Germany, including a sweep of the top three spots.
Jen Schuck, FAPR, RDR, CRR, CRC, Scottsdale, Ariz., took gold while Sheri Smargon, RDR, CRR, CRC, Riverview, Fla., and Tori Pittman, FAPR, RDR, CRI, Wake Forest, N.C., earned the silver and bronze medals, respectively.
In the Speech Capturing event, seniors division, the top six spots were also claimed by NCRA members Schuck; Smargon; John Wissenbach, RDR, CRR, CRC, San Francisco, Calif.; Jennifer Costales, RMR, CRR, The Hague, Netherlands; Anissa Nierenberger, RPR, CRR, CRC, CRI, Boise, Idaho; and Kelly Linkowski, RPR, CRR, CRC, CPE, Rittman, Ohio.
Pittman grabbed first place in the Speech Captioning Voice event, seniors division, while Schuck took home a bronze in the Audio Transcription event, seniors division.
For several of this year's competitors, the trip to compete at the Intersteno Congress was not their first time. In 2015, Wissenbach earned top honors in the Intersteno Realtime Speech Capturing event, seniors division, held in Budapest, Hungary. Shuck has previously placed third in the world in the Intersteno Realtime Speech Capturing event, seniors division, held in Paris in 2011, and second in the same event held in 2015 in Budapest, Hungary. Pittman also competed in the 2015 world competition, ranking 30th in the Realtime Speech Capturing event, seniors division.
The Intersteno competitions follow methods: to take down a text read at an increasing speed or to enter texts and data processed with a computer. In both cases, speed and accuracy determine success.
In the Speech Capturing event, competitors take and transcribe a five-minute dictation at progressive speed. Competitors choose the text to transcribe among three consecutive five-minute legs of dictations given at speeds increased each minute. The initial and final speeds of each dictation are related to the language of the competitors, according to a comparison table set up by the Intersteno Council. At least the first three minutes of dictation must be transcribed successfully. Transcription is handed out on-site on USB sticks or with hand transcription for competitors using traditional shorthand.
In the Audio Transcription event, competitors transcribe a digitally recorded dictation in their mother tongue for 10 minutes. The dictation lasts 15 minutes at a constant and, for the language in question, normal speech speed.
The seniors division is made of all competitors ages 21 and over.
Intersteno, the International Federation for Information and Communication Processing, is a worldwide community with members that represent all manners of information technology, including court reporters and captioners as well as secretaries, teachers, parliamentary reporters, and others who use any technology that produces fast writing. The organization holds its Congress every two years and offers attendees a schedule full of educational sessions, presentations, and competitions in realtime, speed, audio translation, typing, and more. Other activities often include galas and tours of the host city or local area. The event offers attendees a unique view of how the written word captured throughout the world.
For more information about Intersteno, visit Intersteno.org.