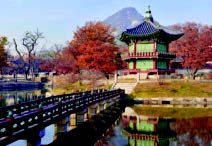 After scanning the JCR job ads for interesting opportunities, Mary Allred, RPR, from Alberta, Canada, relocated to Japan in 2015. As a reporter for Planet Depos, she provides realtime services in the areas of depositions and arbitrations not only in Japan, but in Korea, Taiwan, Hong Kong, Guam, Singapore, and Macao. This piece on living and working internationally is an excerpt from a full-length article in the 2017 November/December issue of the JCR.
How did the opportunity for you to work outside of Canada come about? I was living and working in Calgary, Alberta. The posting for Asia was advertised in the JCR, and when I saw it, I sent an email with an inquiry for details. The rest fell into place from there.
What made you want to work outside of Canada? I have always had the travel bug, and I had obtained the RPR certification with the intention of traveling and working around the world, including in the United States.
What was the hardest adjustment you had to make when you moved outside of Canada? I had to learn quickly how to handle the heat and humidity. Not a single piece of clothing I brought with me is still in rotation in my wardrobe. Also, there was a drastic but pleasant lifestyle change going from a car society to a train society. The public transport system in Japan is famous for a reason. It can take you anywhere! It also requires a lot of walking. I've made more than my fair share of train mistakes and ended up in strange places, but each one was its own adventure.
I was surprised that the language barrier was not as much of a challenge as I thought it would be. Everyone has probably heard the saying that most of communication is non-verbal, and I have definitely learned this is true. I was lucky as well that several phone apps are available that can take a photo and translate text to semi-readable English. I have managed to avoid washing my hair with laundry detergent for two years due to their assistance!
Did you relocate on your own or did you have assistance from a hiring firm? The firm took care of all relocation details. I moved to Japan sight unseen and with only the knowledge I accumulated from long forgotten school information and old samurai movies. Housing and flights are covered by my firm to help ease the transition.
Do you receive benefits such as health insurance, 401K, pension, or are you considered an independent contractor? As a resident of Japan, my health insurance is covered under the National Health Service, which is included in taxes.
What has been the best experience in working outside of Canada? It has been such an adventure living and working in Asia. I have worked through many earthquakes and a few typhoons. I have loved the ability to experience other cultures much more in-depth than is possible during a short trip. My work takes me all over Asia, and I have been able to see shrines and temples, castles and skyscrapers in some of the world's most beautiful places.
Do you plan to return to Canada to work again? At this time I have no plans to leave my wonderful home in Asia.
Will you retire outside of Canada? I'm sure someday I will return to my home in Canada, probably around the same time I finally start to enjoy the heat!
What tips do you have for someone considering working outside of Canada? Have patience! Some days even the simplest thing can turn into an ordeal as you learn different ways to do things. Do not ever be afraid to ask for help. The language barrier can be a challenge, but being polite and understanding will make the people helping you more willing to go the extra mile to make your job easier.
What advice do you have for someone searching for work outside of Canada? The JCR job bank was an excellent resource for me. Once you are there, there are amazing tools nowadays for meeting people and trying new things. Sign up for Meetup.com and join local Facebook groups, and in no time you'll build a network of friends, making your time in your adopted country the most amazing experience possible.
What is your favorite food there? Impossible to list it all! Asian food is amazing. In Japan my favorites are Japanese curry and tonkotsu ramen. In Taiwan I always look for a 50Lan tea shop and get Yakult lemonade or a bubble tea. In Korea, be prepared to burn all your taste buds off with some spicy fried chicken; and in Hong Kong get the Michelin Hong Kong Street Food Guide and try everything!