By Leah Willersdorf
Captioning Awareness Week is an initiative of Stagetext, a registered British charity that provides theater captioning and live subtitling in cultural venues so that d/Deaf, deafened and hard-of-hearing audiences can access live events, including at museums, galleries, festivals, and collections.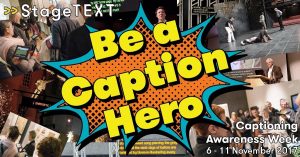 In the United Kingdom, we use the term speech-to-text reporter (STTR) to refer to someone who is providing live subtitles or captions (captioner in the United States). In-house at Stagetext, however, the term captioner has an altogether different meaning. A captioner is someone who prepares the text in advance and then cues them live as the production is ongoing. The text scrolls up on a captioning unit and appears at the same time the words are spoken or sung.
Stagetext's Captioning Awareness Week covers both forms of output, whether the text appears on a captioning unit or appears live via a STTR. It is all about being accessible. In fact, sometimes the two are used together, for example at festivals and concerts.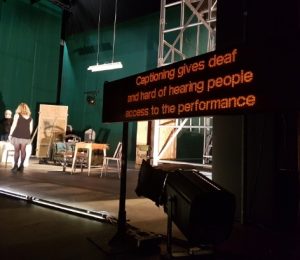 Captioning Awareness Week was prominent in a lot of our social media feeds over here during the week of Nov. 6-11. Live performances and events were happening around the nation, and everyone was tweeting or Facebooking about being a Caption Hero. To start the week off, there's a Thunderclap. Thunderclap is a crowdspeaking platform for social media that is similar to a virtual flash mob. One message can be shared en masse so it will be more prominent in social networks for a length of time and others can join in.
In amongst all the performances and events of the week, Stagetext held an Open Day at the notorious Royal Academy of Dramatic Arts. I was honored to be asked to provide the live subtitles to an audience of venue owners and event organisers. The Open Day was to help the attendees to become more deaf aware and provide them an understanding of how everything works. My co-worker, Louise Pepper, and I were also asked to take part in a different way — by stepping out from behind our machines and actually talking about what we do as STTRs and how we see the profession moving forward.
Stagetext have been instrumental in making performances accessible even at Shakespeare's Globe Theatre. The individual screens are only provided in the slightly darker Upper Gallery. Why? Because the theater prides itself of replicating the era of Shakespeare in every way possible, and the viewing devices may project too much light if seated down in the lower- or ground-level areas.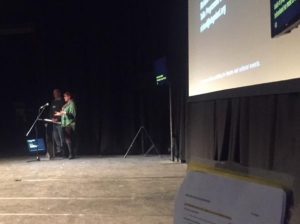 And so, with Captioning Awareness Week having completed a third successful year, I'm sure it will gather momentum with each passing year and continue to be a victory for promoting accessibility in theater and the arts. Next year is bound to be bigger and better!
In addition to Stagetext's Captioning Awareness Week, the British Institute of Verbatim Reporters (BIVR) hosts an Awareness Weekend in the summer. This event is akin to a cross between the NCRA's Court Reporting & Captioning Week and the national convention, but on a much, much smaller scale. The BIVR Awareness Weekend promotes all genres of the profession, whether reporting in court, U.S. depositions, arbitrations, regulatory proceedings, or captioning and speech-to-text. Our members cover it all, as do the NCRA's. We will continue to work together with the NCRA in the promotion of all things stenography, and we are looking forward to Court Reporting & Captioning Week 2018 in February.
Leah Willersdorf is a freelancer in London, England, and the president of the British Institute of Verbatim Reporters. She can be reached at lmwillersdorf@yahoo.com.