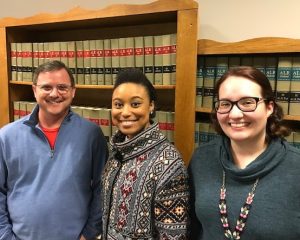 Amelia Bradley, Lindsey NiBlack, and Stephen Shea started together at Brown College of Court Reporting in Atlanta, Ga., in the summer of 2016. They came together from different backgrounds, with different experiences, each with their own reasons for wanting to go into the profession. Soon the three formed a bond of friendship that has been a vital support system throughout their time at school. Bradley, NiBlack, and Shea sat down to interview each other to discuss how far they had come and where they plan to go.
How did you become interested in court reporting?
Shea: My wife and I knew someone in the industry. We came to an open house, and this career seemed a perfect fit for me. I wanted a stimulating, mobile career for the future.
NiBlack and Bradley: We were both unsatisfied with just our Bachelor of Arts degrees and wanted to do more. Like all good ideas, our mothers suggested the field of court reporting.
Did you have careers or degrees in something else, and if so, what made you switch to court reporting?
Shea: My career was my family's printing business. I do have a Bachelor of Arts in management.
NiBlack: I have a bachelor's in religious studies. So, obviously, that's not exactly practical (laughter). A bachelor's doesn't have the same pull that it used to, so I wanted a skill, not just another degree.
Bradley: I am a professional ice skating instructor, and I have a bachelor's in journalism. There are similarities between journalism and court reporting, but I wanted a career with more stability. Plus, I realized that I wanted to be more "behind the scenes." Now, I can just listen, and I'm nosy!
Describe your support system at school. How has it helped you to overcome your challenges?
Bradley, NiBlack, and Shea: Amelia is by far the most positive. She always tells us, "You can do it!" We have found that it is easier to disappoint yourself than your friends and support system. We all have different strengths, too. Amelia is great at speedbuilding. Lindsey helps out with technology. Steve's job is to keep us laughing. We all pull each other up in our academic classes, too! We're the only ones left from our starting steno theory class and have been through a lot together.
It's nice to have friends to ask stupid questions so that we don't look stupid in class (laughter). That was a bond forged in our grammar class. That, and Steve's study guides!
Even when we are aggravated about school, we come to see each other. There can be a lot of negative responses to testing and to some of the more challenging aspects of court reporting school. It is great to have a supportive group to go to and seek some encouragement from one's peers. That keeps us in a positive frame of mind to be successful.
What has been your most difficult challenge so far?
Shea: Making the decision to not do something at home that needs to be done in order to practice has been hard. Making myself more disciplined has been a challenge. It can be hard to say no to your kids.
NiBlack: Definitely accepting failure. I have never failed so many tests in my life! Plus, being a steno writer, realizing that it takes us time to build speed.
Bradley: I think learning to be patient, like things won't happen when I want them to. That doesn't make me a failure. I've also had to cut back on a lot of work in order to progress. I have learned that I can't do everything.
What is your dream job?
Shea: Barring becoming president of football operations for the New England Patriots, I think I want to be an official reporter for its stability.
NiBlack: Go Pats! I'm too late to be an astronaut. For now, I am leaning toward being a freelance reporter with the freedom to set my own schedule. I want to travel while I am still young! I think I would like to become an official of the court when I decide to settle down though.
Bradley: Officialship! I like routine and stability. I feel like that would allow me to form stronger relationships in the workplace. I do plan to get married and have children, so in order to be flexible, I might plan to freelance during that period of my life.