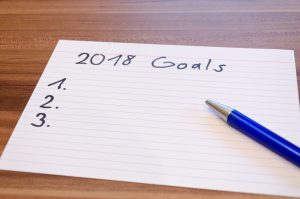 It's 2018: Have you made your New Year's resolutions yet? Up-to-Speed reached out to court reporting students to ask them about their resolutions and goals for the upcoming year. Many of us resolve to start exercising, travel more often, or pick up a new hobby. But these students are all work and (mostly) no play.
"Making resolutions is usually not my thing," said Rosalind Dennis of Arlington Career Institute in Arlington, Texas, "but I am this year!" Ask Connie Hwang of Plaza College in Forest Hills, N.Y., what her resolutions are and she gets right to the point: "Finish my stenography degree. Start working as a court reporter." She is not alone. It seems every student has one thing top of mind this January: working hard.
What does working hard look like? "In 2018 I would like to become proficient in steno writing. I would like to eliminate hesitation and become more confident in muscle memory," said Vickie Pelletier, of the College of Court Reporting in Valparaiso, Ind. Pelletier, like many students, is focused on her skills. January is a natural time to look back over the past year, assess your progress, and set some goals for the next 12 months. Macy Thompson, another student at the College of Court Reporting, will be one of those aiming for her goal. "I want to keep expanding my knowledge in briefs and phrases to help with less hesitation. My list of improvements could go on forever. I just really want to improve my speed," Thompson said.
Speed is a common theme for student New Year's resolutions. Taneshia Crockett, a student at Sheridan Technical College in Hollywood, Fla., said, "My goal is to accomplish passing all speeds." She wants to pass her 180 wpm by the end of 2018 and be interning shortly after that. She has a no-nonsense plan: "Improve my writing habits. Focus on my weak areas." Thompson wants to be at 225 wpm by December of 2018. "I've been struggling with my 120s since August. After having decided to make this my ultimate goal for the coming year, I am already two tests away from being in my 140s."
Of course, all this pressure to increase speed leads to increased stress. To manage their stress, students say they are vowing to improve study habits, spend more time practicing, and find ways to reduce test anxiety. Cherie Allen, also a student at the College of Court Reporting, is resolving to "concentrate more on my studies, become better at time management, and try not to procrastinate so much." Pelletier is doing her best to balance work, school, and an expanding family. "I would like to improve my time management. With a baby on the way, a degree underway, and a full-time job to maintain, the past few months have not been easy. I would like to manage my time in such a way where I am not tired during most of it. Miracles do happen!"
The ultimate goal of a student, as Hwang noted, is not to be a student any longer. Dennis said of her resolutions: "I plan to be vigilant in my practice time, finish school, and test in September." When asked to narrow down just one goal for 2018, she picked, "Reaching 225!" More than half of the students who responded to Up-to-Speed indicated that graduating and finding work as a court reporter were their goals as well.
Allen's drive and determination are tempered by her other aspirations: "to grow my love for the court reporting field" and "to overall have a happier/positive state of mind." Only a few of the students Up-to-Speed reached out to brought up the lighter side of New Year's resolutions. Jennifer Golightly, another student at Arlington Career Institute, said that "self health and awareness" were the things she would most like to improve in 2018. Hwang wants to increase her speed, but she also wants to "slow down." She said she will travel more and "strengthen my relationships with family and friends."
And Hwang has one more resolution. When she finishes her degree, she's going to "CELEBRATE."