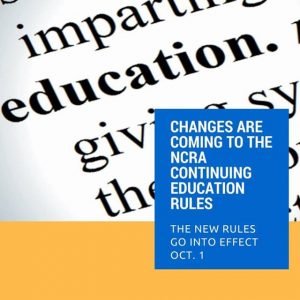 Changes to NCRA's Continuing Education Program rules by the Association's Council of the Academy of Professional Reporters (CAPR) will take effect Oct. 1. The changes were made after a several-month review by CAPR to update the current policies and procedures. While many of the sections remain unchanged, the revisions broaden the scope of topics for captioners and encourage all members to obtain preapproval from NCRA or CAPR before they attend seminars with third-party vendors for CEUs.
"CAPR felt strongly that the eligibility of topics for CEUs was geared more towards judicial reporting and not captioning. We reviewed these areas with the idea of broadening the scope in order to include more topics that captioners would come across in their work," explained CAPR Chair Mary Daniel, FAPR, RDR, CRR, CRC, a freelance reporter from Las Vegas, Nev.
"CAPR also wanted to encourage reporters who are relying on approval of CEUs for their certifications to obtain approval from NCRA or CAPR before they attend the seminar. This was due to many last-minute requests for approval. When CAPR denies the CEUs, the reporter is then faced with the dilemma of obtaining CEUs before their cycle expires. Hopefully, the changes in the rules will give reporters and captioners a better sense of what will and will not be accepted for CEUs and the timelines they are facing," she noted.
The Continuing Education Program Rules apply to both continuing-education activity sponsors seeking preapproval of those activities as well as to individuals seeking to claim CEUs from NCRA for non-preapproved activities. "It is important for CAPR to regularly review the continuing education rules in order to keep current with the needs of our members. This publication and notification is in keeping with our accreditation requirements with the Accrediting Council for Continuing Education and Training (ACCET), which will conduct our five-year recertification visit early next year," said NCRA Senior Director of Education and Certification Cynthia Bruce Andrews. The revised handbook is available on NCRA's website and changes to the rules are highlighted in yellow.
The goal of continuing education for NCRA is to equip credential holders with the knowledge and skills necessary to compete in a world of ever-changing information and technology. A uniformly applied Continuing Education Program ensures that clients will experience a consistently high level of quality, proficiency, and knowledge among NCRA credential holders. The body of knowledge in the world changes approximately every seven years. In this spiraling explosion of information, NCRA credential holders must keep abreast of new developments or face being left behind. The obvious benefits of continuing education are learning new skills, keeping up with technological advances, and developing new areas of expertise. However, the hidden benefits may be even more valuable — keeping the mind open to new ideas, honing the skills of learning, and developing as a well-rounded professional.
"We want to be sure our members are kept well-apprised of the current status of our Continuing Education Program and the guidelines as recommended by ACCET," said NCRA President Christine J. Willette, RDR, CRR, CRC, a firm owner from Wausau, Wis. "We feel more transparent and readily available information will allow members to make informed decisions about earning their CEUs."