Michael Buie, RPR, CRR, CRC, president and owner of MBA Reporting Services in Plano, Texas, has been a member of NCRA since 1976 and is still a practicing freelance reporter. Throughout his career, he and his wife, Shari, have founded, organized, and participated in several community programs, including:
Love in Action for hospitalized children and their siblings
The Hearing Heart program, which provides captioning at a local church
GED (General Educational Development) classes to inmates
He currently co-teaches an addiction recovery program to inmates at two maximum-security prison units. He also volunteers for Possum Talks, a program he cofounded for incarcerated dads who want to learn how to be faithful fathers from behind bars, in which Buie and his team of 10 volunteers hold six workshops a year throughout north and south Texas.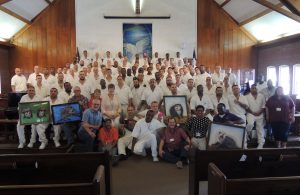 What prompted you to become involved with the Possum Talks?
I've always enjoyed teaching in different venues. In reporting school, I taught academic evening classes and attended full-time day school at McMahon College of Stenotype in Houston. As far as Possum Talks, Shari and I cofounded the organization in 2013. We both had taught addiction recovery to men and women for a couple years and saw firsthand the need to help incarcerated men understand how to be faithful fathers and communicate effectively with their children. There's a lot of tension exhibited by incarcerated men because they see their children committing many of the same criminal acts, but they feel helpless to do anything about it from behind bars. This results in feelings of aggression, guilt, and hopelessness for many of them. The program is faith-based but structured to encourage men of all faiths or nonfaiths — Judeo-Christian, atheist, Muslim, Satanist, Naturalist, etc. — to value godly principles as the standard for being faithful fathers. We are proud of Possum Talks' growth in five years. At the one-year mark, in 2014, the program received the Texas Governor's Award for the most innovative new program in the Texas prison system. Since the program's inception, Possum Talks has conducted 27 one-day or day-and-a-half workshops in eight different medium- and maximum-security prisons throughout Texas.
How long have you been involved in this work?
I have been involved with teaching inmates since about 2012, first teaching an inmate GED class in math, English, science, social studies, and writing skills. I also co-taught a weekly Bible class in what's called the SHU, or Secured Housing Unit (maximum security), at Collin County Detention Center for two years. The men of the SHU are confined to a cell 23 hours a day. It was an honor for them to spend that one hour on Thursdays in Bible study with us.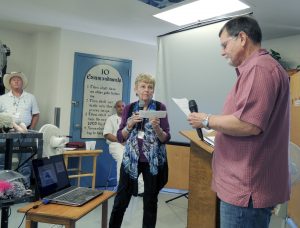 What other community service activities do you support?
Shari and I also teach addiction-recovery classes at Buster Cole State Jail and Collin County Detention Center (Fannin and Collin counties) in maximum security. From 1985 to 1996, we both participated in civic outreach for children at what was then the Parkland Memorial Hospital Children's Unit in Dallas. Shari founded the organization called Your Love in Action, which provided a yearly Christmas program with both corporate and individual donations, like toys, underwear, and health items. The program grew to the point that we filled two FedEx delivery vans, enough to supply hospitalized children (usually burn victims) and their siblings throughout the year. Shari and I, along with our son and daughter, participated as a family in the program for 10 years. I also founded a program called The Hearing Heart in 1996, which provided live CART captioning to individuals who are late-deafened and culturally deaf at a church in Plano, Texas. I and another captioner provided weekly captioning for as many as 20 congregants.
What are the greatest benefits personally and professionally to being involved in community service activities?
Though I'm now over 70 years old and anticipate retirement sometime, I still report as a freelancer and manage my firm. However, now, because of my age, I'm more interested in participating in efforts with eternal value, not just helping relieve social ills.
Why is giving back to the community important?
Giving back to the community is important because 1) it's the community that provides an environment of peace and security to thrive in as a family and an individual, and 2) according to Matthew 5:16, I'm commanded to give back to the community in such a way that glorifies God, not me. Giving back demonstrates not only positivity to a society in jeopardy but also promotes goodwill and a spirit of cooperation and volunteerism without expectation of benefit or entitlement.
What advice would you give to someone who is seeking to become involved in community service activities?
1) Look at not only your skills as a reporter but 2) your uniqueness as a human being, what makes you unique above and beyond your professional skills, and 3) proactively seek out opportunities to offer these attributes for the good of others. There's another place in Scripture where the Apostle Paul says that the end result is a resultant peace that transcends all understanding. That's right where I intend to be during the rest of my reporting career and long afterward.
The JCR Weekly will run a series of interviews featuring NCRA members who are giving back to their community in addition to an article in the April issue of the JCR.