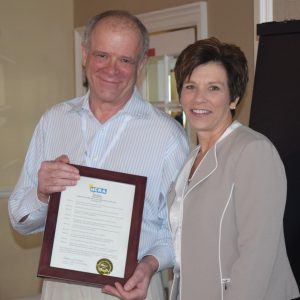 Brian Clune, CLVS, was presented with a plaque recognizing his 20 years of service to the court reporting, captioning, and legal videography professions. Clune was instrumental in creating NCRA's Certified Legal Video Specialist (CLVS) program, including developing an ever-changing seminar and creating an exam for program participants to prove a basic knowledge of the techniques and ethics required by videographers pursuing a legal video career. NCRA President Chris Willette, RDR, CRR, CRC, presented the plaque to Clune, who had retired from the CLVS Council and committee work in 2017.
"The NCRA Board of Directors wanted to formally recognize Brian Clune for his 20 years of service to the profession through his dedication and arduous work with the CLVS program," said Willette. "The work Brian has done for the CLVS certification and the Trial Presentation programs helped lay the groundwork for what we have today. We are thankful for all that he has done to bring court reporters and legal videographers a greater understanding of each person's role in the legal process so that together we can offer our clients a better product. His expertise in the field has been an integral part of the success of the program."
The CLVS program not only teaches participants the mechanics and best practices for providing a consistent and impartial video record, but it also reaffirms the cooperative nature of the legal videographer and court reporter in the deposition setting. "I am grateful to be the first CLVS to be recognized by the Board for my volunteer service," said Clune, "but it is the hard work of the many associate members on the CLVS Council that that keeps the program up to date and running smoothly. … Each council member spent extra hours beyond the regular meetings to keep the program fresh and in step with the current technology. It was this collective effort that created the success of the program for these many years.
"The council members I worked with are too many to list here, but they remain good friends even after they left the Council. I truly appreciate the opportunity to have worked with such a selfless group of people whose only reward was a more respected CLVS program."
Clune first served as a member of the CLVS Committee and then eventually became the Chair of the CLVS Council, offering his advice to newcomers to the profession, court reporters, and the profession at large. Clune also championed the need for additional, ongoing education for legal videographers, just as is required of their reporter counterparts, and was an integral member of the group that created NCRA's Trial Presentation Program.
"It is a rare thing when one individual can make such a tremendous contribution to shaping the development of a program like the CLVS certification," said Jason Levin, CLVS, who currently serves as the CLVS Council Chair. "Brian had a hand in influencing every aspect of this curriculum, from co-authoring the CLVS study book to designing the practical exam to writing questions for the written exam to teaching the majority of CLVS classes at our conventions. The list of his efforts is too large to enumerate. I will miss working with him on the CLVS Council, but I take comfort in knowing that he will easily be found at the YesLaw booth at NCRA Conventions for years to come."
"I had the pleasure of working side-by-side with Brian for many years as a Council member and as an instructor for the CLVS program," said Robert MacTavish, an early member of the CLVS Committee. "Throughout those years, Brian skillfully guided us from the VHS era into the digital recording era."
MacTavish added: "I have many fond memories working with Brian, and I would like to congratulate him on his twenty years of service to the NCRA."