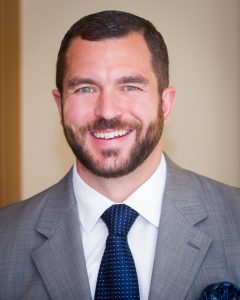 NCRA is pleased to announce that Erik Robert Olson, a principal with Venn Strategies, Washington, D.C., has joined the Association as legislative consultant. Olson's experience includes 14 years of service as chief of staff and in a variety of policy and campaign roles for U.S. Rep. Ron Kind (Wis.), a senior member of the House Ways and Means Committee and former chair of the moderate pro-business House New Democrat Coalition.
Olson will work directly with NCRA CEO and Executive Director Marcia Ferranto on developing a strong legislative strategy for future advancement of advocacy efforts in the federal arena. Olson holds a bachelor's degree from the University of Wisconsin–La Crosse. He brings years of expertise in the areas of tax, trade, and health care to the clients of Venn Strategies.
"We are fortunate to have Erik joining our government relations team and representing our interests at the federal level. For the last several weeks, the Board has worked diligently to maintain the Association's commitment to advocating and protecting our profession. With Erik's support, that commitment has become even stronger," Ferranto said.
"Erik understands the importance of a new vision for NCRA, and his knowledge of the legislative system without a doubt serves to complete our government relations efforts and to complement the hard work advocating for the profession at the state level already being spearheaded by our Government Relations Manager Matthew Barusch," she added.
"After meeting Marcia and getting to know Matt, I am excited to help implement the direction the organization is going in. It seems like a new day and new opportunities are presenting themselves for NCRA, and I am excited to help carry out Marcia's long-term vision," Olson said.
Olson brings to NCRA a unique knowledge about the court reporting and captioning professions due to his work with Rep. Kind, a longtime supporter of the Association and a sponsor of multiple official proclamations recognizing the Association's annual Court Reporting & Captioning Week. As Rep. Kind's chief of staff, Olson was privy to the issues that matter most at the federal level to court reporting and captioning from the lawmaker's wife, Tawni Kind, RMR, CRR, CRC, an official court reporter and a member of NCRA.
Olson, who is from Rep. Kind's hometown of La Crosse, Wis., said that while working on the representative's campaign for more than three years, he had the opportunity to work closely with Tawni Kind and was able to learn more about what she did as an official court reporter.
"My dad was an attorney and has known the Kinds for years. So I also had experience watching court reporters in the courtroom. I also learned more about the profession when Rep. Kind was working on the realtime writers grants as well as when he created the Veterans History Project and involved court reporters and captioners in it," he added.
In 2016, Olson's firm was instrumental in helping to schedule meetings with Rep. Kind and other lawmakers on behalf of NCRA members who were attending that year's NCRA Legislative Boot Camp. The firm is assisting NCRA again this year with creating the event's app and scheduling meetings for the 2018 event set for March 11-13.
Olson said that one thing he finds so interesting about the court reporting and captioning professions is the lack of knowledge most people have about reporters' roles in the community.
"I think from a government relations perspective, it is interesting that the people on the Hill don't understand everything court reporters do or the importance of having credentials or the education required to develop the level of skill needed to do the job," Olson said. "I don't think people understand the quality of work court reporters bring to the job, whether it is helping with disabilities, captioning live broadcasts, or working in the courtroom. It is an untapped thing. We have a blank slate to go up and educate members and staff on the Hill, and there are opportunities that come with that. There is a clear path to do some interesting things," he added.
In addition to his work in the legislative arena, Olson also serves as chairman ex officio and a member of the board of directors of Horton's Kids, a non-profit organization that offers social and educational services for children in Washington, D.C.
"I am super excited to be working with everyone and to be involved in NCRA. I think there is a lot of opportunity with new leadership and on the Hill to find new champions, to educate them about NCRA, and to look for new legislative avenues. I have a lot of ideas. Rep. Kind should be part of a chorus of champions for the Association, so we need to develop a slate of members to help carry the water into the future and make sure NCRA continues to be a successful organization," Olson said.
Venn Strategies is a nationally recognized, full-service government relations and public affairs firm. The firm has been named as one of the fastest-growing private companies in America by Inc. magazine.