Enlightening, enriching, insightful, and inspiring are just some of the adjectives representatives from 28 state court reporter associations used to describe their experiences at NCRA's 2018 Legislative Boot Camp held March 11-13 in Reston, Va.
With a lineup of top speakers that addressed issues ranging from how to stop overthinking, why certification is important to state associations, how to support successful grassroots lobbying efforts, and how to implement effective programs at the state level, attendees of the NCRA 2018 Legislative Boot Camp were given access to an impressive learning opportunity. Attendees also participated in mock trials as they prepared to take new skills and insights they learned during the sessions to advocate for the court reporting and captioning professions during visits with lawmakers and their staff members on Capitol Hill.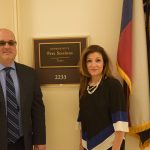 "There was a lot of information shared during this event. It was enlightening, and I have some great ideas to take back to my state association, as well as some really good points I can use when I meet with my legislators," said Carolyn Coronado, RPR, an official court reporter from Houston, Texas, and first-time boot camp attendee.
"For me personally, I can see how I can use the information I learned to address my judges as well on certain issues. I came here to learn, and now thinking ahead, I may become more involved with NCRA and committee work," added Coronado, a past board member of the Texas Court Reporters Association.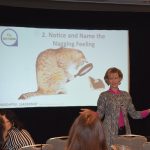 Shelley Row, speaker, consultant, and author, led an insightful session laced with humor and personal stories in her presentation "Go with Your Gut: Effective Decision-Making in an Overthinking World." The self-proclaimed recovering overthinker shared with attendees how she used infotuition – the combination of intuition and information – to learn to recognize the signs that made her an overthinker. She shared her cognition-intuition balance model that is based on understanding what constitutes a no-brainer decision versus a knee-jerk decision and how to leave room in our thinking to allow the "Aha!" moments. She also shared how important it is to remove yourself from heated situations before reacting, the positive impact of taking brain breaks, and recognizing body markers.
"Thinking and acting is not enough. You have to think, feel, and act. Taken together, the brain, gut, and the body's neurological system create embodied intelligence that supports infotuitive decision-making. Understand in advance what triggers launch what reactions in you when faced with making good decisions. Learn ways that you can return to calm, and take brain breaks to allow all parts of the brain to work together to make decisions," Row told attendees.
"Everything we talked about here are skills. They take practice. You are always practicing; every minute of every day is practice. It is likely that between today and tomorrow you will encounter a triggering event. You can make the decision to do what you've always done, or choose to slow it down and think about it differently. Either way is practice. Are you practicing the behavior that serves you best to make decisions from your gut?"
Row left attendees with one final thought: "A good message to take with you is that a lot of people go through life and don't take a breath or don't realize what affects them. You need to breathe. As court reporter you need to stop and do that."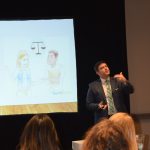 Attorney James Cool presented a session that discussed how to implement effective programs at the state level by understanding the moral philosophy framework for political persuasion. His presentation was focused on the five oral axes as explained in the book, The Righteous Mind: Why Good People Are Divided by Politics and Religion, written by Jonathan Haidt, which explains how moral underlining philosophies drive our decision-making. The five moral axes that trigger our morality he touched on included:
Care/harm
Fairness/cheating
Loyalty/betrayal
Authority/ subversion
Sanctity/ degradation
Other sessions presented during boot camp that armed attendees with more insight and skills before heading to Capitol Hill to meet with lawmakers and their staffs on the last day included:
"The State of Court Reporting" by NCRA President Chris Willette, RDR, CRR, CRC, and Matthew Barusch, NCRA State Government Relations Manager
"Grassroots Lobbying" by Jacqueline Sly, former state representative for South Dakota
"A Lesson on the Importance of Certification" with John Brandon, interim president of the Connecticut Court Reporters Association
"Certification: An Important Issue in the States" presented by Barusch and Cynthia Bruce Andrews, NCRA Senior Director of Certification and Education, about why certification is an important issue for the states.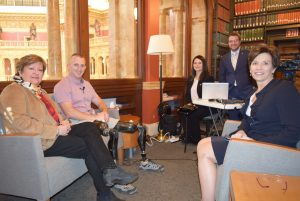 Other highlights of the 2018 boot camp experience included traveling into Washington, D.C., to Capitol Hill via the Metro, lunch in the Dirksen Senate Dining Room, and a special wrap-up reception at the Library of Congress in honor of the Veterans History Project (VHP). The reception also included an interview for the VHP by Willette with retired U.S. Marine Sgt. Rob Jones, a double above-the-knee amputee who has been inspiring fellow veterans with his 31 marathons in 31 days in 31 different cities and bike trip across the United States. Jones also holds a Bronze medal in rowing from the U.S. Paralympics. Planet Depos provided their top-notch videography services for the event and captured the entire interview for the National Court Reporters Foundation.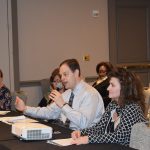 "I really enjoyed the networking sessions. I learned a lot. I liked the in-depth discussions of critical issues. These conversations are important. My biggest takeaway from Boot Camp is that I see there are people in virtually every state that care deeply about our profession and are willing to work together to address these issues," said Joshua Edwards, RDR, CRR, a captioner from New York, N.Y., and president-elect of the New York State Court Reporters Association.
"You can have a bigger impact working together than alone in many areas. Court reporting and captioning as a field depends on the passion of our members," he added.