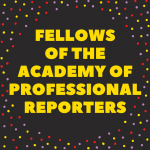 NCRA has announced the 2018 class of Fellows of the Academy of Professional Reporters. The recipients will be recognized during an Awards Luncheon at the 2018 NCRA Convention & Expo in New Orleans, La., being held Aug. 2-5.
The 2018 class of Fellows are:
Mary P. Bader, RPR, an official court reporter from Eau Claire, Wis.
Allison A. Kimmel, RDR, CRR, CRC, an official court reporter and broadcast captioner from Marysville, Ohio
Donna Karoscik, RDR, CRR, CRC, a freelance court reporter from Pickerington, Ohio
Jen Krueger, RMR, CRI, CPE, a freelance court reporter and instructor from Strongsville, Ohio
Yolanda Walton, RPR, an official court reporter from Norwalk, Ohio
Membership in the Academy symbolizes excellence among NCRA members. The designation of FAPR represents an individual's dedication to the court reporting and captioning professions and expresses the highest level of professional ethics.
To be nominated for membership in the Academy, candidates must be a Registered Member of NCRA with at least 10 years of professional experience and have attained distinction as measured by performance in at least three of the five performance categories. This performance could include publication of important papers, creative contributions, service on committees or boards, teaching, and more.