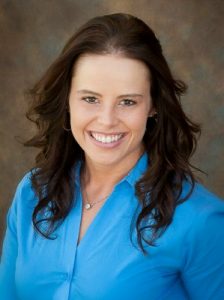 Ask any captioner and they'll tell you the most exciting thing about their jobs is the variety of assignments they get. From providing CART in a university classroom to captioning for live theater, each assignment is as varied as the preparation it calls for. The JCR Weekly recently reached out to NCRA member Andrea Couch, RDR, CRR, CRC, owner of Associated Reporting & Video in Boise, Idaho, about her work captioning the Olympic Games. Here's what she shared.
JCR | How long have you worked as a captioner?
Couch | I worked as a captioner from 2006 until 2011.
JCR | Which Olympics have you captioned?
Couch | I captioned the 2008 summer Olympic Games and the 2010 winter Olympic Games. I was fortunate enough to have been assigned to caption both the summer and winter games, so I got to caption a wide variety of Olympic sports. In the 2008 Olympics, I remember I captioned women's volleyball, archery, baseball, basketball, triathlon, weightlifting, rowing, diving, and swimming. In the 2010 winter Olympics, I captioned alpine skiing, biathlon, bobsled, luge, skeleton, ice hockey, speed skating, and curling.
JCR | How did you prepare for this assignment?
Couch | It was an enormous undertaking to prepare to caption the Olympic Games. The way scheduling worked when I captioned the Olympics, I would be assigned a two-hour block of time. All of the Olympic Games were aired on NBC and its affiliate networks, so I would go to their website to see what events would be broadcast during my two-hour block. The problem was, there would only be very generic descriptions with a list of maybe 10 different events that might possibly be aired during those two hours, but if something more exciting popped up, they would immediately jump to that.
So for a two-hour block, it may say that they were going to air part of a women's volleyball game, cycling, men's diving, some women's weightlifting, and synchronized swimming, and you would be given general details about which countries' athletes may be participating. So for that two-hour block, the prep was enormous to get all of your bases covered.
I remember when I was captioning the 2008 summer games, I made it through my first two-hour block, and they aired everything they said they were going to: a women's volleyball game, some cycling, some synchronized swimming; everything that I had prepped for. I was feeling pretty good about myself! And then all of a sudden, with 20 minutes left in my two-hour block, they decided to switch to men's rowing, an event they had given absolutely no indication that they would be airing. Of course, there were no Americans in the race (that would be far too easy). Every single race participant had a last name that I swear was 20 letters long with no vowels. So I found myself finger spelling every single name in that race for the last 20 minutes of my block. Ten years later, I still develop a facial tick when anyone mentions men's rowing.
The other incredibly challenging part about captioning the Olympics is that the prep material is so vast. Not only do you have to prep for the specific events happening during the times you are assigned to caption, you also need to keep up on who has won medals that day and who will be competing later in the coming days because during transitions from sport to sport, they will always give a recap of what's been happening and what's coming up.
And then there are the human interest pieces that they jump to about an athlete who grew up in a tiny village deep in the heart of some country you've never even heard of, and they throw out names of relatives and close friends and geographic locations where the athlete has trained for their sport, all of which you have received absolutely no prep material for.
There is also an incredible amount of prep work to be done about the country hosting the Olympics, all of the prior countries where the Olympics have been held, and the countries where the Olympics are set to be held in the future. It's also imperative that you make sure you have in your dictionary the names of past Olympians who have competed and won in each sport because you never know when their names might pop up. You also must prep for each commentator involved in the event you are captioning as they are often past Olympic athletes themselves and will talk about their experience in the Olympics: where they competed, who they competed against, etc.
JCR | What was the most exciting part of this assignment for you?
Couch | Well, to state the obvious, it's the Olympics! It's history in the making! It's intense competition highlighting the sheer will and determination of these amazing athletes to stop at nothing to accomplish their goals. Throughout my career, I have always enjoyed competing in speed and realtime contests, and so I always felt I shared the same mentality as these competitors, albeit on a much smaller scale. That drive to work tirelessly to be the absolute best you can be at whatever it is that you do is an amazing thing to watch unfold before your eyes. There are no words to express what it feels like to play a role in the broadcasting of these events to the world.
JCR | How was this job different from other captioning assignments you have had? For example, what was the stress level if any?
Couch | Oh, my goodness, the stress level. There is just nothing quite as intense as knowing that the entire world is watching your work. Sure, that's the case most any day you're on the air as a captioner. But the Olympics, that is the greatest stage of them all. It was both one of the most stressful things I have ever done but also the most rewarding and exhilarating. There is absolutely nothing better than pushing yourself to the limits of your abilities and coming out victorious. Although, I must be honest with you, after that incident when they switched to men's rowing and I had to finger spell every name for the last 20 minutes of that block, I distinctly remember thinking to myself, "Oh, my heavens. Please just put me back on the Weather Channel!"

Reporters who caption the Olympics truly are Olympians themselves. Every year I watch the Olympics with my captions turned on, and I stand in absolute awe at what my colleagues are capable of. It is truly astounding the skills and abilities that we have. The training that we do to be able to accomplish such feats is incredibly similar to that of each one of those competitors. We train our whole lives for this, constantly improving and never settling for "good enough." We invest endless hours of hard work, tears, frustration, picking ourselves up and dusting ourselves off after a hard day to make ourselves the best at what we do so that when we reach the biggest stage of them all, we can perform at such incredibly high levels of proficiency. What an amazing skill we possess!
JCR | Is there anything else you would like to add?
Couch | I captioned for five years, and it was the best thing I ever could have done. It improved my writing immensely, it changed my perspective on how I write and why I write the way I do, and it gave me a hunger to never stop challenging myself. That experience has opened incredible doors for me throughout my career, and I will be forever grateful for the opportunity that was given to me.
Yes, captioning is very difficult. But the rewards you receive from making that leap are vast and immeasurable. Have you always wanted to be a captioner? Do it! Take the leap. Sign up for training. Work on your realtime. Challenge yourself to always be better. You just might find yourself captioning the Olympics someday. The hard work is absolutely worth the reward. No question about it.