Surrounded by loving family, Kahryn "Queenie" Nix Wolfe lost her brief but valiant fight with cholangiocarcinoma on March 1, 2018.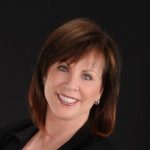 Kahryn was born to James Pentecost and Renee (Pentecost) McNett in Detroit, Mich., on February 16. If I told you the year, Kahryn would return to this world and kill me.
Kahryn moved to Phoenix in 1964, after graduating from high school and the American Institute of Court Reporting. She started her court reporting career with Bartelt King in the early 1980s. In 1985 Kahryn opened Nix & Associates, later merging with Larry Driver's firm and launching Driver & Nix. In 2017 she rejoined Bartelt to form Bartelt | Nix.
Kahryn was an active member and past President of the Arizona Court Reporters Association. She was a longtime member and supporter of the National Court Reporters Association and the Society for the Technological Advancement of Reporting (STAR). Kahryn networked with member agencies across the country and became known as "Queenie" to her friends. And there was, and always will be, only one Queen.
An avid traveler, Kahryn enjoyed regularly attending NCRA's Firm Owners Executive Conference and STAR conventions. Although she may not attend all the seminars, you would always find her at the social events, including organized dinners with friends, on the dance floor, singing around the piano and pop-up live music, laughing with court reporter and firm owner friends. Kahryn loved a party, and she made each conference a party to remember.
Kahryn freely shared her knowledge of the court reporting industry, helping firm owners set up successful systems, explore new technologies, and sharing best practices. Her reputation for integrity and excellence attracted firm owners who were ready to turn over the business side of things to her. If you were a friend of Kahryn's, she shared her strategy for merging with firms and acquiring businesses. Rule No. 1: Do what you say you will do, and then do more.
Her generosity was not limited to the court reporting community. In 1998, Kahryn became involved with and joined the board of the nonprofit group Phoenix Youth at Risk, now known as New Pathways for Youth. She was the driving force behind many of the fundraisers for this program that was vital to helping at-risk youth achieve a new set of goals that positively impacted their futures. In the late 1990s, Kahryn also began a clothing company called Kidz Blvd., which donated all profits to women in villages overseas to enable them to become more financially independent and purchase their own sewing machines and textiles. She was also a member of Arizona Legal Foundation for Services & Education, Women at the Top (WATT), the Rose Club, and Social Venture Partners.
Kahryn made sure she kept in touch with friends and made sure they knew how much they meant to her. In a moment that seems prophetic, last year she reached out to her longtime pal Larry Driver and commiserated about the friends they had lost, how much she missed them, and how they needed to stay in touch so that this didn't happen to them too. In October, she picked up the phone and insisted they have lunch and catch up. That would be the last time these two old friends would see each other, but thank goodness they did.
Kahryn was a dear friend to many of us. We will especially miss her big heart, her wit, and her wicked sense of humor. I think she would approve of us sharing a few of her rules for life:
Laughing burns calories.
Update your haircut (and color choice) regularly.
Earrings, bracelets, and rings – yes; necklaces — no.
Black, not brown.
Wine is diet food.
There's nothing wrong with looking.
The next time you are at a court reporter convention, tip a glass in her honor, get out on the dance floor, and always – always! — have fun. Cheers, Queenie.
Robin Nodland, FAPR, RDR, CRR
Portland, Ore.