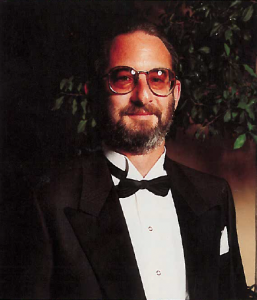 The court reporting profession lost an icon last week: Allen Edelist, FAPR, RPR (Ret.), passed away on May 16, 2018, at the age of 67. Allen was a generous, loyal, and true colleague and friend who dedicated a great deal of his time to the advancement of the court reporting profession. He was an avid fan of the Los Angeles Angels and Los Angeles Kings, and he had season tickets for many years and hated to miss a game! And, of course, those who knew him were well aware of his "groupie side," following the rock band Procol Harum all over the world to see them perform! Allen was also a long-term trustee of the Los Angeles School of Law and Paralegal Studies and a member and supporter of the Wilshire Boulevard Temple in Los Angeles.
Allen's career in court reporting began in the early 1970s when he enrolled at Clark Court Reporting College in Santa Monica, Calif. He passed the California CSR exam in 1978 and opened his deposition agency, A. Edelist Deposition Services, soon after in 1979. His greatest accomplishment as an agency owner was his devotion to mentoring students and reporters, new and seasoned, throughout his 40 years in the field.
Allen never missed an opportunity to get involved in court reporting association work as evidenced by time served as a board member and multiple officer positions of both Los Angeles General Shorthand Reporters Association and California Court Reporters Association (CCRA), ultimately serving as president October 1993-1994. He was an active member of the National Court Reporters Association for over 40 years, attending most annual conventions as well as firm owners' retreats. Needless to say, he was extremely generous monetarily and spent an inordinate amount of time helping to produce legislation, continuing education, and public relations programs through these organizations. Allen received many awards throughout his extensive career highlighted by CCRA's Distinguished Service Award and becoming a Fellow of NCRA.
As a leader and visionary in the court reporting arena, Allen continually strived to advance the profession as evidenced in the following excerpt taken from his CCRA presidential speech on October 9, 1993:
By virtue of the technological presentation we make, we are a unique breed. We are on the cutting edge of information management. The presentation of the spoken word that can be transmitted immediately through a computer and projected onto a screen or printed in braille, integrating the ingredients of litigation support, telecommunications, scanning of documents into the records and CD-ROM text is the future and the future is now.
In the 1970s, we were not unlike Orville and Wilbur Wright. We started by building a base for a product we could offer. Through rapid advancements by the computer industry, as well as futuristic thinking by our CAT vendors, we have continued to grow, now as realtime reporters. We can further our advancement by committing to a program of continuing education that will enable us to converse fluently as computer-literate reporters.
RIP, Allen. You have been an inspiration to many both personally and professionally. Your close friends and colleagues will miss you and your impact on what you once coined "this incredible profession."
Michele Oken, RPR, CMRS (Ret.)
Sherman Oaks, Calif.