By Max Curry
For an experience of culture in NOLA and/or South Louisiana, the following are recommended.
Plantation tour along the Mississippi River
Whichever tour you choose to do, they all cover the big plantation houses and gardens from NOLA to Baton Rouge. There are another couple plantations just past Baton Rouge (one of which is listed on "Ghost Hunters" as one of the most haunted places in the U.S., The Myrtles.) If you have all day, it is worth adding to your tour. Otherwise, just stick with the tours that cover from NOLA to Houma, which is just south of Baton Rouge. It is about a half-day tour, but a great cultural experience. You must see Oak Alley (featured in Interview with a Vampire), and Houma's House (the most amazing Gone-With-the-Wind meets 12-Oaks landscaping you will ever see). Both plantations have amazing restaurants paired with them as well, so have a light breakfast and plan to arrive for your mid-morning meal hungry… and enjoy!
Swamp tour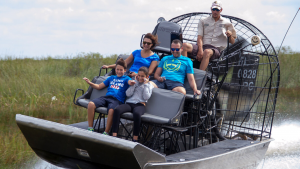 I know this sounds a little dirty and creepy, maybe even a little scary, but the swamp tour is a fun and beautiful tour of the surrounding swamps of NOLA, some of which is by airboat, so dress appropriately. You get to see the beauty of the natural environment around NOLA: the moss, the beautiful trees, the swamp flowers, and the wildlife that call the swamp home. You will learn about our unique environment. You will rave to your friends back home about this experience. After all, a life well lived is a series of great experiences.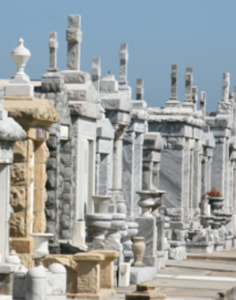 The cemetery tour
NOLA and South Louisiana are known for their beautiful above-ground cemeteries. The water table is so close to the ground in NOLA, you can't bury underground or when it gets very moist with rain in the spring, storms, and/or hurricanes, the dead will revisit you — and I don't mean in the haunted way. Long ago New Orleanians learned through necessity to bury above ground, not below. There is an amazing process to this whole ritual within families that you learn about, and how the process works over the period of one year. I will leave the rest to your tour, but it is extremely interesting and eerily beautiful as well. Make sure any tour you take includes Lafayette Cemeteries No. 1 and No. 2. If they don't, skip it. Find another tour that includes them.
A haunted New Orleans tour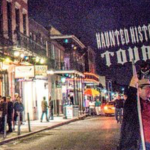 NOLA is famous for lots of things, but among the most famous are the stories of ghosts, zombies, vampires, witches, werewolves (known in Louisiana as the Rougaroux), and voodoo! Any one of these subjects alone for a city to be famous for would be a lot, but NOLA is contending with stories and events surrounding all six — and sometimes it is all six together! Think of Dynasty meets Dallas meets The Shining meets American Werewolf in London having a muddy battle royale in the swamp, and you're getting a clear picture! NOLA is the crossroads in America of the bizarre. Almost all these tours are walking tours; a few are by bike, buggy, or Segway. You can find tours that address any one of these subjects individually, or ones that have a cross section of a few or all of them combined. Come thirsty and plan to have a lot of fun on these tours, learn a little bit of history, and get the bejezus scared out of you along the way.
This is one of the few times I will give a specific recommendation in this article. If you are interested in a tour that addresses all subjects, is well done, and a lot of fun, try the Witches Brew Tour or the Lord Chaz Ghost Tour. When I have friends or family I take on one of these tours in NOLA, I always go with one of these two companies. They all do a good job, but these two provide just a little lagniappe (little something extra, the baker's dozen).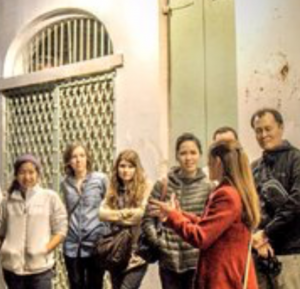 Historical Quarter tours
There are multiple forms of French Quarter tours you can undertake: 1) on-foot tours; 2) bike tours; 3) horse-drawn buggy tours; 4) Segway tours; 5) Hop-On Hop-Off Bus tours. I haven't done all of these, but I have heard from family and friends that all are fun and educational. They are also a quick way to get your bearings in the Quarter as to what's what, what you need to walk back and see and experience as boots on the ground, and what was good once for edification purposes but now you can move on.
Audubon Aquarium of the Americas
If you have your family along for the trip, another great thing to do with the kids would be New Orleans's Audubon Aquarium. It's at the start of the French Quarter on the river and Canal Street and very easy to get to. You can't miss it. The aquarium could take up to half a day to tour if you're taking your time and reading and observing everything. Kids will love it; the kid in me did.
Cultural development in art, architecture, and antiques
Royal Street is one of the central corridors in the Quarter. It runs parallel with Bourbon Street, just one street over but closer to the river. It's a lot cleaner and less noisy, and it is an area deeply steeped in culture, beauty, architecture, and antiques. Amazing art shops, old-world antiques, traditional NOLA balconies and building architecture, and street artists abound on Royal. You'll hear a jazz band playing, then a new-world rendition of jazz one block up, an actor playing at the art of mimicry and/or frozen art, then two blocks down three boys playing drums on 5-gallon buckets that will blow your mind as to how talented they are, as well as people playing and dancing, giving poetry or tarot card readings, and performing Shakespeare. On top of all that, there are lots of places along the way to quench your thirst or fill your stomach with incredible food selections. NOLA's beautiful Federal Court of Appeals building is on lower Royal as well.
Some of the art shops are amazing.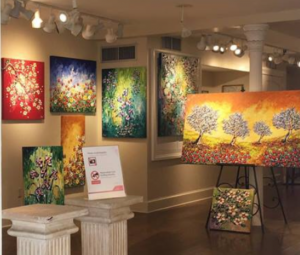 My nephew David's favorite art shop on Royal Street is Caliche & Pao. There is some beautiful art in this shop, but most of the buildings in the paintings look like they were painted after having one too many wobbly pops (beer or mixed drink). You will see what I mean when you visit. Love their art, though; very fun and jovial. My favorite art shop on Royal is Sutton Gallery. I've personally spent way too much money in that shop, but I love their art and the eclectic nature of the artists in this particular gallery. It's a must-see in my opinion. I stop by every time I'm in the Quarter just to be inspired and amazed!
Riverboat cruises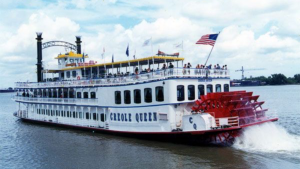 Two riverboats, the Natchez and the Creole Queen, are docked in NOLA and permanently touring the Mississippi River from the Quarter every day. Both offer day and evening cruises that take you down the river toward the Gulf and then back to the Quarter again. They tend to run as three-hour tours. Each offers a package that is either the cruise alone with a cash bar, or cruise and a meal. I recommend the food on the cruise. They do a first-class job with this fun event, and the tour offers a beautiful view of the swamp and city from the river as well.
Frenchmen Street area
The Frenchmen Street area is a six city-block area that adjoins the French Quarter in the Faubourg Marigny neighborhood. The southern border of the Quarter is Canal Street, with the northern border being Esplanade. When you cross Esplanade Street, you are now in the Marigny area and only a couple blocks away from Frenchman Street. An easier route would be to walk all the way through the French Market, and at the end of the French Market you are only two blocks from Frenchmen Street in the Marigny.
This is a very eclectic area with a variety of live music venues, clubs, and great restaurants and bars. Many of the people who work in the Quarter live in the Marigny area, and Frenchmen Street is their go-to hangout for relaxation, not the Quarter. This is a place to listen to great music, eat great food, all outside of the party-touristy atmosphere of the Quarter. If you want to see how the locals do it, this is where you go. A tremendous amount of fun there every evening.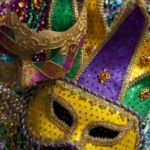 Mardi Gras World
It will require a Lyft/Uber ride to get to, but the Mardi Gras World is something everyone needs to see. It is about a two-hour tour, but you learn a lot about the history of the festival and get to see a lot of floats up close and personal. They also have many famous floats from the past. The last time I took friends to the museum, I spotted a float from my childhood. Tons of childhood memories around Mardi Gras here!
Don't you want to visit New Orleans now? Register for the NCRA Convention & Expo.
Max Curry, RPR, CRI, is a freelancer, official, and agency owner in Franklin, Tenn. He is also on NCRA's Board of Directors. He can be reached at max@elitereportingservices.com.