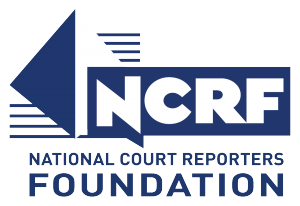 The NCRA Board of Directors has elected the following individuals to serve on the 2018-2019 National Court Reporters Foundation Board of Trustees:
Mary P. Bader, RPR, Eau Claire, Wis.
Michael A. Bouley, RDR, Tucson, Ariz.
Catherine J. Phillips, FAPR, RMR, CMRS, Ocala, Fla.
The newly elected Trustees will begin their three-year terms on Aug. 4 after being inducted into service at the Foundation's annual Board of Trustees meeting taking place in conjunction with the 2018 NCRA Convention & Expo being held Aug. 2-5 in New Orleans, La.
The new Trustees will be joining current NCRF Trustees:
Chair Nancy Hopp, FAPR, RDR, CRR, CMRS, St. Louis, Mo.
Chair-elect Tami Keenan, FAPR, RPR, CPE, Battle Creek, Mich.
Secretary Debra Dibble, RDR, CRR, CRC, Woodland, Utah
Debra K. Cheyne, M.A., CSR, Sherwood, Ore.
Jane Fitzgerald, RMR, Pleasant Hill, Iowa
Danielle Griffin, RPR, Phoenix, Ariz.
Teresa Kordick, FAPR, RDR, CRR, CRC, CRI, CPE, Des Moines, Iowa
Cregg Seymour, Baltimore, Md.
Karen G. Teig, RPR, CRR, CMRS, Cedar Rapids, Iowa
Sandy VanderPol, FAPR, RMR, CRR, Lotus, Calif.
NCRA's 2018 Convention & Expo is the largest annual gathering of court reporters, captioners, scopists, legal videographers, trial presenters, students, and other legal services professionals.
Register now for the 2018 NCRA Annual Convention & Expo before July 23 to avoid late fees. Reserve a hotel room at the Hyatt Regency New Orleans using NCRA's special discount rate by July 6 and get a free breakfast on Friday and Saturday (a $75 value).
To jazz things up even more, check out this party playlist of songs selected by NCRA staff to get everyone excited to meet in New Orleans!
For more information about the 2018 NCRA Annual Convention & Expo, or to register, visit NCRA.org/Convention.
For information about sponsorship opportunities, contact Mary Petto, Senior Director of External Affairs at mpetto@ncra.org.