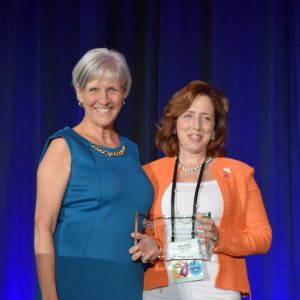 NCRA member Marjorie A. Peters, RMR, CRR, a freelance court reporter and firm owner from Pittsburgh, Pa., was honored with the 2018 Santo J. Aurelio Award for Altruism. The award was presented by NCRF during NCRA's Convention & Expo held Aug. 2-5 in New Orleans, La.
The Aurelio Award is given to a working court reporter with more than 25 years of experience who has given back to the profession and to the court reporting community with no expectation of any reward.
"Receiving the Santo Aurelio Award was an emotional and overwhelming moment, only made better because I was able to share it in person with so many friends and colleagues who offered their heartfelt congratulations and kind words.  When I see photos on Facebook, I continue to be deeply touched," said Peters, who owns Marjorie Peters Court Reporting.
"When I look at past years' awardees, I am in awe to be included now in their company and then even more humbled that my dear friends nominated me and saw it through," she added.
At the national level, Peters has presented numerous times at NCRA's annual Convention & Expo as well as has served on a number of the Association's committees. She is a longtime supporter of NCRF.
Active at the state level, she has served twice on the Pennsylvania Court Reporters Association Board of Directors. She has served on the Board of Directors for the Society for the Technological Advancement of Reporting (STAR) and has coordinated a number of Veterans History Project events to capture the stories of U.S. war veterans for the Library of Congress to preserve.
She has sponsored students at both the state and national levels for memberships and convention fees and often invites students from the court reporting program at the Community College of Allegheny County (CCAC) into her home office to demonstrate live captioning.
Active in her community, Peters is a longtime volunteer with the Light of Life Rescue Mission, as well as the Pittsburgh Vintage Grand Prix Race, which benefits the Autism Society. She is also a lector at the Assumption Church in Bellevue, Pa.
"I feel Marjorie is the perfect example of the meaning of the word altruism – the belief in or practice of disinterested and selfless concern for the well-being of others," said life-long friend Janis L. Ferguson, RPR, CRR, who was one of several of Peters' peers to nominate her.
"She has demonstrated this time and time again through her concern for her family, her concern for her community, and her concern and passion for her chosen profession. It has been an honor to nominate her," added Ferguson, a freelance court reporter from Erie, Pa.
"Marjorie's work history is made up of every facet of our profession – judicial reporting, captioning, and freelance work. She does not hesitate to volunteer in every way she can manage for our school in western Pennsylvania, and is a great aid to CCAC," wrote Donna Cascio, FAPR, RDR, CMRS, an official court reporter from Somerset, Pa., who also nominated Peters.
"She is a great ambassador for our profession — and for living with compassion and kindness on this planet," Cascio added.
Peters said that each year, she continues to be inspired by court reporters, CART and broadcast captioners, and firm owners who offer themselves to build up the profession, as well as their communities, and offered the following words of encouragement: "Let us always be encouraged by each other. Always remember to allow yourself to be inspired, and that any act of kindness, no matter how small, is never wasted. Smile at a hard-working clerk. Act when action is needed. And give whenever you can. Your heart and mind will be most richly rewarded."