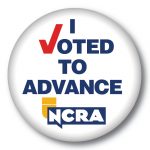 NCRA members voted on 12 amendments to the Constitution & Bylaws following the Annual Business Meeting on Aug. 2, 2018, which occurred in conjunction with the NCRA Convention & Expo in New Orleans, La. A question arose on the NCRA state leaders listserve on how abstention votes were counted in accordance with Robert's Rules of Order Newly Revised Edition, so a parliamentary review was requested. Upon parliamentary confirmation of the rule/method for counting abstention votes, all amendments except Amendment 11, the name change, are now deemed to have passed. Going forward, NCRA has put in place a policy to have voting results verified by our parliamentarian before being announced to our membership.
Per our Constitution & Bylaws, Article IX, Section 5b, "The latest edition of Robert's Rules of Order Newly Revised shall be the official parliamentary guide for all business sessions when they are not in conflict with this Constitution and Bylaws or rules adopted by the Association during the annual business meeting or by the Board of Directors." Robert's Rules of Order Newly Revised, Page 415, "ignore blank ballots and other ballots that indicate no preference, treating them as abstentions" and "all ballots that indicate a preference – provided they have been cast by persons entitled to vote – are taken into account in determining the number of votes cast for purposes of computing."
To pass, Bylaws amendments must receive at least two-thirds (66.7%) affirmation by the Voting Members who are voting by electronic mail or other authorized means of electronic transmission. The numbers below reflect the percentages voting for each amendment:
| Number | Name | Pass/Failed | Percentage Voted For |
| --- | --- | --- | --- |
| 1 | Voting for Officers and Board of Directors | Passed (previously reported as failed) | 71.9% |
| 2 | Voting on Bylaws Amendments | Passed | 82.0% |
| 3 | Clarification of electoral process | Passed | 83.6% |
| 4 | Elections when more than two candidates are running for the same position | Passed | 81.5% |
| 5 | Number of Directors on the Board | Passed (previously reported as failed) | 71.4% |
| 6 | Clarification of the timing of terms of office | Passed | 84.8% |
| 7 | Elimination of requirement to include a consumer or public member as part of the Council of the Academy of Professional Reporters (CAPR) | Passed (previously reported as failed) | 72.9% |
| 8 | Clarification of electronic mail voting | Passed | 83.5% |
| 9 | Removal of reference of electronic voting in a business meeting | Passed (previously reported as failed) | 71.4% |
| 10 | Definition of Voting Members | Passed | 84.7% |
| 11 | Name change | Failed | 47.3% |
| 12 | Meeting reference | Passed | 92.3% |
During the Annual Business Meeting, Keith Lemons and Yolanda Walton were elected by majority vote to fill unoccupied spaces on the Board of Directors resulting from the promotion of two Directors to Officer positions on the Board.
The Constitution & Bylaws permits all eligible NCRA voting members to vote through electronic means on Bylaws amendments and contested Board of Directors elections. The Bylaws amendments ranged from minor, including cleaning up some repetitive language, to more substantial, such as streamlining the voting procedures for amendments and elections. Eligible voting members participated through a private, secure link during the 12-hour voting period. View all voting results.