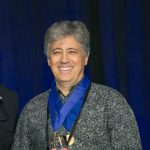 NCRA member Mark Kislingbury, FAPR, RDR, CRR, owner of Magnum Steno from Houston, Texas, won the 2018 National Realtime Contest held during the Association's Convention & Expo in New Orleans, La. It is his fifth Realtime Contest win. This win ties the record for most wins in the NCRA Realtime Contest with 2017-2018 Contests Committee co-chair Jo Ann Bryce, RMR, CRR, of Castro Valley, Calif. Kislingbury's overall score was 99.24 percent.
Kislingbury placed second in the literary leg with a 99.20 percent accuracy rate, and first in the Q&A leg with a 99.28 percent accuracy rate.
The JCR Weekly recently reached out to him to find out more about what motivates him, how he prepares to compete, and how he learned about court reporting as a career.
JCR | In what area of the profession do you work?
KISLINGBURY | What I do does not actually fit into any of those groups! Most of my professional writing is for a national political radio program where the Web team for that program wants instant transcripts so they can post verbatim transcripts on their site. This demands accurate realtime so that I only have to make a few edits/corrections on commercial breaks and send that segment at the end of the commercial break. I also work for that same program before each particular show transcribing "sound bites" taken from television so that the host may have verbatim transcripts of those sound bites. Occasionally I still do broadcast captioning and will take a freelance job or a remote CART job.
JCR | How long have you been in the profession?
KISLINGBURY | 35 years.
JCR | How did you learn about the profession?
KISLINGBURY | I was a junior in high school in a Gregg shorthand class when a rep from the nearest court reporting school visited our class and showed us a brand-new olive green steno machine with shiny black keys. She told us you could graduate in two years, make a high salary right away, and that 95 percent of the students were girls. What's to not like?
JCR | How many national contests have you participated in?
KISLINGBURY | I competed in NCRA Speed Contests from 1995 through 2010 (16 of them), and since 1999 I have competed in 18 of the 20 NCRA Realtime Contests.
JCR | Do you compete both in the Realtime and the Speed contests??
KISLINGBURY | I used to compete in both, but from 2011 through today I have not competed in an NCRA Speed Contest. I do enjoy competing in the California DRA Realtime Contests.
JCR | What motivates you to compete?
KISLINGBURY | I suppose it's the pursuit of excellence. The pursuit of excellence seems to be a universal human value that contributes to overall happiness, self-esteem, and well-being. Since I love teaching court reporters and students to help them improve, I think that winning contests (where I have been fortunate enough to do so) lends added credibility to what I am teaching.
JCR | How did it feel to win this year?
KISLINGBURY | It felt great because it was the culmination of a lot of hard work in the practice room. There are so many amazing realtime competitors out there nowadays that it is extremely hard to win! And it's so easy to "have a bad day" in the realtime contest. I believe only nine different individuals have won the NCRA realtime contest in its 20 years of existence! And only four have won it multiple times.
JCR | Do you plan to continue to compete at the national level?
KISLINGBURY | Absolutely!
JCR | What advice would you give someone who is considering competing at the national level?
KISLINGBURY | It's fun! Do it for the experience, for the pursuit of excellence, not "to win." It takes the pressure off if you have the attitude: "I just want to try my best and see what happens." The other competitors are friendly and encouraging. Your first goal may well be to simply "qualify" in one of the two legs. (Qualifying means 95 percent accuracy or above.) Qualifying means you get ranked in a group of elite Realtime (or Speed) Contest reporters!
JCR | How far in advance do you begin to practice for the national contests?
KISLINGBURY | When I was competing in speed contests, I would start at least three months ahead of time. For the realtime contest, I start practicing 365 days ahead of the contest!
JCR | What is your practice routine to prep for these contests?
KISLINGBURY | For the realtime contest, generally I write a 5-minute take at around 280 and keep slowing it down in 5 percent increments until it's about 225. The whole time I'm striving to write each stroke instantly, without ever getting behind. The "instant" takes precedence over "accuracy." I generally write the take 7-8 times. By the time I quit, I'm realtiming it virtually perfectly. That takes 35-45 minutes. Then I take a break. The next time I practice, it's a new take, same routine.
If I were doing the speed contest again, I would do the same practice regimen except start much faster than 280 and slow it down incrementally until it reached 280, doing each take 7-8 times before moving on.
JCR | Do you compete at the state level as well?
KISLINGBURY | Currently, only at the California Deposition Reporters Realtime Contests, which tend to be every February. I used to compete in the Texas Speed Contest in the 1990s. For many years I have chaired the Texas Court Reporters Association Realtime Contest and continue to do so to this day.
JCR | Is there anything else you would like to share?
KISLINGBURY | I have started a court reporting school, the Mark Kislingbury Academy of Court Reporting, in Houston, Texas. We opened in 2011. We have both on-site and online programs. Our first nine graduates (who started brand-new with us) have averaged one year and 10 months! Four of the nine were online students. I teach students my very short Magnum Steno Theory. There are several dozen happy and prospering professional reporters in the field who learned my theory. Many of them are providing realtime and/or captioning. I am attempting to do my small part to try to fix our nationwide court reporter shortage.