By Sue Terry, FAPR, RPR, CRR, CRC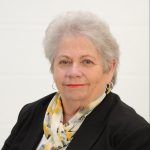 The Sinclair Broadcast Group has announced that it will begin using IBM Watson Captioning, a form of automatic speech recognition, for their local television news stations. NCRA feels strongly that this decision is not in the best interests of the end consumer, and we are working diligently to do all we can to protect consumers and educate broadcasters as to the importance of quality captioning provided by a stenographic captioner.
This decision has alarmed everyone in our profession, but it is also serving as a catalyst to bring our association of professionals together to assist our deaf and hard-of-hearing community. This isn't just about captioners and the effect that such a decision has on our work. Court reporters and captioners are not resistant to using technology to improve our lives; in fact, we are on the cutting edge of technology and are using the best platforms available to efficiently provide accurate court records and captions.
This decision is about the consumers: the millions of people in the United States who use captioning to absorb vital information, information that will now become garbled, untimely, lacking speaker designations, and often unintelligible, in addition to omitting sound effects, laughter, and music. While automatic speech recognition is evolving, it cannot match the expertise and skill of a trained and certified captioner. The deaf and hard-of-hearing community should have nothing less than full participation in programming. Using automation to disseminate vital information to millions of Americans who rely on accuracy in captioning is not only irresponsible, in our opinion, but potentially dangerous to the end users of our product: quality captioning.
NCRA's Government Relations Department Manager, Matthew Barusch, is working with our NCRA Captioning Regulatory Policy Committee to handle this new development. On behalf of the entire Board of Directors, we have full confidence in their work to address this, but we still need your help. Sign our petition urging Sinclair to change course. If you are in an area with a local Sinclair television news station that has transitioned to IBM Watson, watch the news and closely critique the captions. Enlist the help of your friends and family in doing the same. If you see the captioning is inaccurate, register your formal complaint with the FCC. With your help and our entire community working together, we can make a difference.
Sue Terry, FAPR, RPR, CRR, CRC, is NCRA's 2018-2019 President. She can be reached at president@ncra.org.