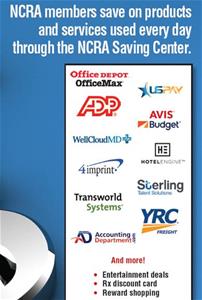 By Natalie Dippenaar
According to Chase Cost Management, workers in the legal professions spend an average of $1,000 per person per year on office supplies. That is a lot of folders, pens, and sticky notes. If those figures hold true for the professions of court reporting and captioning, NCRA members can easily recoup their annual NCRA membership dues just by taking advantage of the discounts available from Office Depot through the NCRA Saving Center.
NCRA Saving Center discounts provide members with savings up to 80 percent on office essentials. Some recent deals include a pack of 12 legal writing pads for $31.22 at Office Depot. That's a savings of $54.07, which is a great discount off what you pay for membership. Buy a few and you could recoup the cost of your NCRA membership just with legal pads. Of course, many other types of office supplies are available at discounted rates, including items like K-cups and hand soap, so it's easy for the savings to add up. To sign up for this free benefit of NCRA membership, visit NCRA.savingcenter.net.
Other professional discounts available to NCRA members through the Saving Center include up to 20 percent off ADP payroll services, credit card processing rates less than 1 percent, discounted online accounting services, and unbeatable collection agency pricing. Personal discounts available to members include up to 75 percent savings on prescription drugs not covered by insurance, cash back on more than 1,200 stores every time you shop online at the Rewards Mall, 24/7 telemedicine and health discounts, and up to 60 percent savings on tickets to top attractions, theme parks, shows, sporting events, dining, movies, hotels, and much more.
NCRA membership is a bargain. The benefits of membership greatly outweigh the annual dues investment. We know you didn't join NCRA for the discounts on things like office supplies, but we hope you will take advantage of the deals available to you. We work hard to deliver member value and help NCRA members save money every day.
Natalie Dippenaar is NCRA's Assistant Director of Member Relations. Questions about NCRA's Saving Center can be directed to membership@ncra.org.