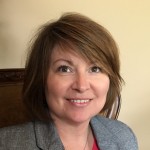 Kimberly R. Greiner, RDR, CRR, CRC, will offer a live webinar Dropbox: Getting Started, Sharing, and Making the Most of It through NCRA's Continuing Education Program. The live webinar, which is sponsored by NCRA's Technology Committee, occurs on Nov. 12 from 8-9 p.m. ET. Register here.
Greiner shared the following about what attendees can expect from this session.
"Dropbox is an important tool I use to ensure I have everything I need at my fingertips," Greiner explained. "My desire is for attendees to walk away with a complete understanding of how it really works, where your files are, what should be synced, and how this cloud storage can best function for you."
Dropbox can be an important tool for managing your files, whether you like to share with your scopist as you are working on the files or you need a place to upload your backup before you leave your workplace.
In addition, Greiner explained: "I will walk through this cloud storage from the beginning, show you how to share files, manage your storage, backup or retrieve files, and how to collaborate with a scopist using a shared folder. I will also cover Case CATalyst Work Units using Dropbox so you can see and understand, before you need to use it, what you and your scopist can expect, and setting suggestions."
Register now for this live webinar to earn 0.10 CEU.