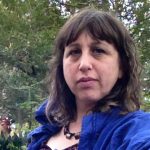 Nicole Bresnick, a captioner with the University of Wisconsin-Madison's Deaf and Hard of Hearing Program, is the winner of a $100 Pengad gift card for renewing her NCRA membership early.
Bresnick, a longtime member, was entered into the special drawing along with others who renewed their NCRA memberships in September and October.
"I became a member of NCRA as a student to get connected with my fellow students and the industry, and I have stayed a member, really, for the same reasons; but also, because it's the right thing to do for my court reporting and captioning community," said Bresnick, who resides in Madison, Wis.
"What I love most about being a CART captioner is that, working in an academic setting, I'm able to support the amazing students I work with to achieve great things in their education and then beyond. It's also been great to learn how to be a better ally for deaf and hard-of-hearing people and to help pass that information on to other people in the hearing world," she added.
Member benefits continue to include:
A listing* in both the print and online versions of the NCRA Sourcebook
A subscription to the JCR Magazine and the JCR Weekly
Multiple certification programs with online skills tests designed to make you more money
Access to discounted group insurance programs through Mercer for personal liability and errors and omissions
Member pricing to can't-miss networking and educational events at the NCRA Convention & Expo (Aug. 15-18, 2019) and NCRA Business Summit (Feb. 1-3, 2019), formerly known as the Firm Owners Executive Conference
First-class online educational opportunities
Renewing is easy and available online at NCRA.org/renew or by calling 800-272-6272. Members can expect to receive their membership card via email within approximately two weeks of renewing if they have a valid email address and have not previously opted out of Constant Contact email messaging.
For more information, contact Brenda Gill, NCRA's Membership Manager, at bgill@ncra.org.
* Registered, Participating, and Associate members are eligible for this benefit.