Technology shapes our lives each and every day. NCRA's Technology Committee is sponsoring two live webinars to help you get a better grip on the tech that can save you time and make you more productive.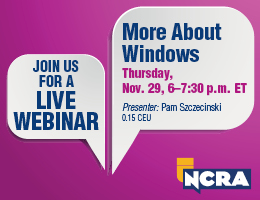 More about Windows 10
Pam Szczencinski, who has been a software trainer for more than 30 years, will offer a special session focused on how court reporters can get the most out of Windows 10. The 90-minute webinar (1.5 CEUs) will cover updates, including which ones are helpful and which ones to steer away from; lesser-known features of the operating system; and ways to customize your PC to work the best for you. This Nov. 29 session is filling up fast, so register right away!
Register for November 29 webinar: More about Windows 10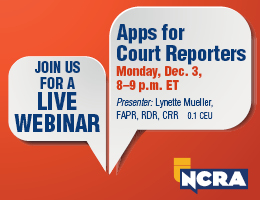 Apps for Court Reporters
Known technophile, court reporter, and chair of NCRA's Technology Committee, Lynette Mueller, FAPR, RDR, CRR, will present a live webinar of her favorite apps and tech gadgets. "The smartphone has become an essential tool for every court reporter and eliminates the need for other gadgets one relies on," says Mueller. "As our world and work environment is becoming more and more mobile, it's important to be able to keep up with your calendar, billing, transcripts, and much more at the tips of your fingers. I'm excited to host this discussion about the most important apps I utilize every day to keep me productive and efficient." The one-hour (1.0 CEU) live webinar will be offered on Dec. 3 and will include a plethora of ways to make you more productive each and every day.
Register for December 3 webinar: Apps for Court Reporters