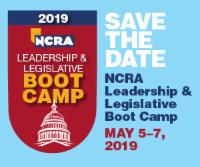 The 2019 NCRA Leadership & Legislative Boot Camp promises to provide attendees with an experience like no other when it comes to learning firsthand the power of advocacy and the influence good leadership can achieve.
The 2019 event is May 5-7. It will include two full days of training, exploration, and hands-on activities designed to give everyone who attends the takeaways necessary to become successful advocates and leaders in the profession at the local, state, and national level. Training will end with role-playing and mock interviews to help prepare attendees for the final day of the event that culminates on the third day with visits with Washington, D.C., lawmakers on Capitol Hill.
The site of the 2019 event is the Embassy Suites by Hilton in historic Old Town Alexandria, Va., just outside of Washington, D.C. Anyone in the court reporting, captioning, or legal videography professions wanting to grow and hone their advocacy and leadership skills should make plans to attend the 2019 NCRA Leadership & Legislative Boot Camp.
Watch the JCR Weekly and JCR magazine for more details and information about registration for this one-of-a-kind event.