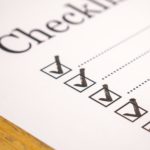 Whether you're trying to get a few last things done before the end of the year or you're ready for 2019, here are a few things that you can do to get a jump-start on your career in 2019.
If you have only five minutes, make sure your email address and your mailing address are up-to-date in your NCRA profile. NCRA wants to make sure that your information is complete and accurate for the online and print NCRA Sourcebook and also that you are receiving any newsletters and publications that are a part of your member benefits.
While you're there, check to be sure you've renewed your membership.
Update your resume and make sure to include your membership in professional organizations, your latest work experience, and any new certifications you've earned this year.
Take some of your down time to earn credits through NCRA's e-seminars sessions. (Oh, and don't forget to add those to your resume when you've finished earning those credits!)
Has the end of the year got you remembering a special person who inspired you by all he or she has done for the court reporting or captioning professions? Start collecting information so that you are prepared to nominate this person for NCRA's Distinguished Service Award. The March 19 deadline may seem far off right now, but ask for help now so that you can get all the pieces of information lined up for when you need it.
If you're ready to make 2019 the year you take your business to the next level, register now for Business Summit. Not only will Mike Miller, FAPR, RDR, CRR, be there to show you how to move your court reporting business into the 21st century, but you will learn why networking is so important to growing your business. If you attend, be sure to make plans to attend the stellar networking events at the NCRA Business Summit.
If leadership is more your thing, consider whether you want to nominate yourself or a colleague for a position on NCRA's Board of Directors. An informational online meeting will be held on Jan. 9, and nominations are due by Jan. 18. Or get your feet wet by planning to attend the NCRA Leadership & Legislative Boot Camp to be held May 5-7 in Alexandria Old Town, Va., to learn how to become a successful advocate for the profession.
If you prefer to share your knowledge, put together an outline for a presentation and submit it to NCRA for consideration for the 2019 Convention & Expo. NCRA is always looking for new speakers and interesting topics for its events.
Finally, if you have some unusual work experience, consider whether you can share your experience with other members. Get in touch with the JCR editor in January about telling your story.